Highlights:

Breathable

Super Soft Handfeel

Thermal

Ultra Lightweight
Make being cold a thing of the past in this duvet style jacket. This longline style falls to your mid-calf and is fully padded with responsibly sourced down. Features an oversized hood, internal pocket and zip side pockets for all your essentials.
Water and wind resistant outer fabric
Fully padded with responsibly sourced down
Oversized longline style with zip fastening
Internal pocket and two zip outer pockets
Fleece-lined hand pockets with zipper closure
Front shoulder to hem length: 115.5 cm / 45.5"
Model wears size S and is 178cm/5'10" tall
Style Code: SB5925
Colour: Black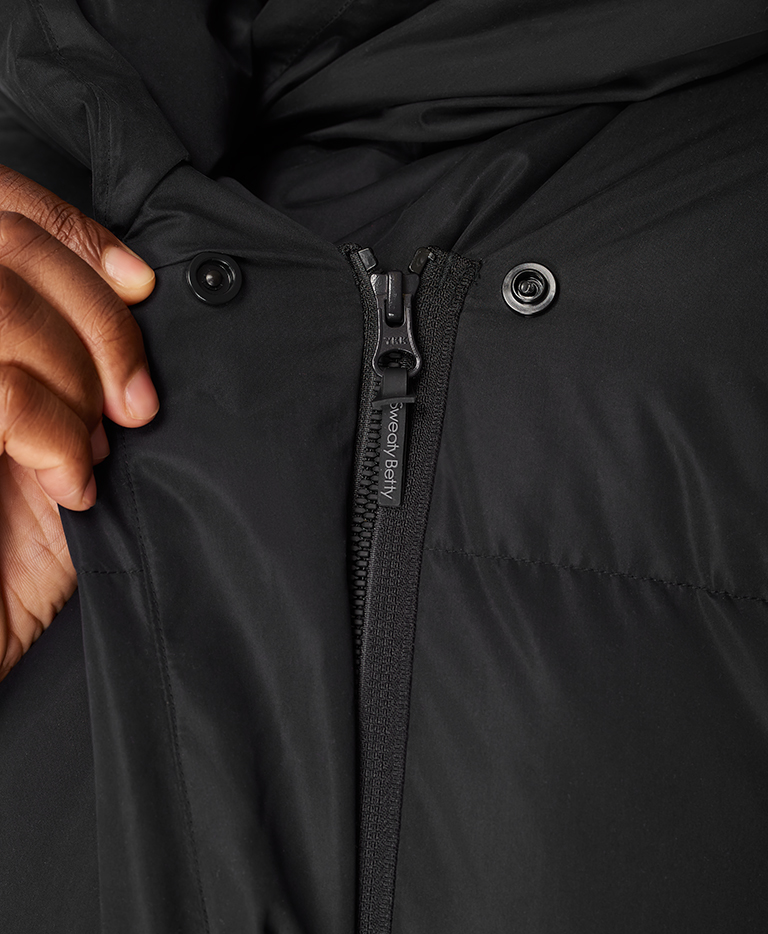 For maximum warmth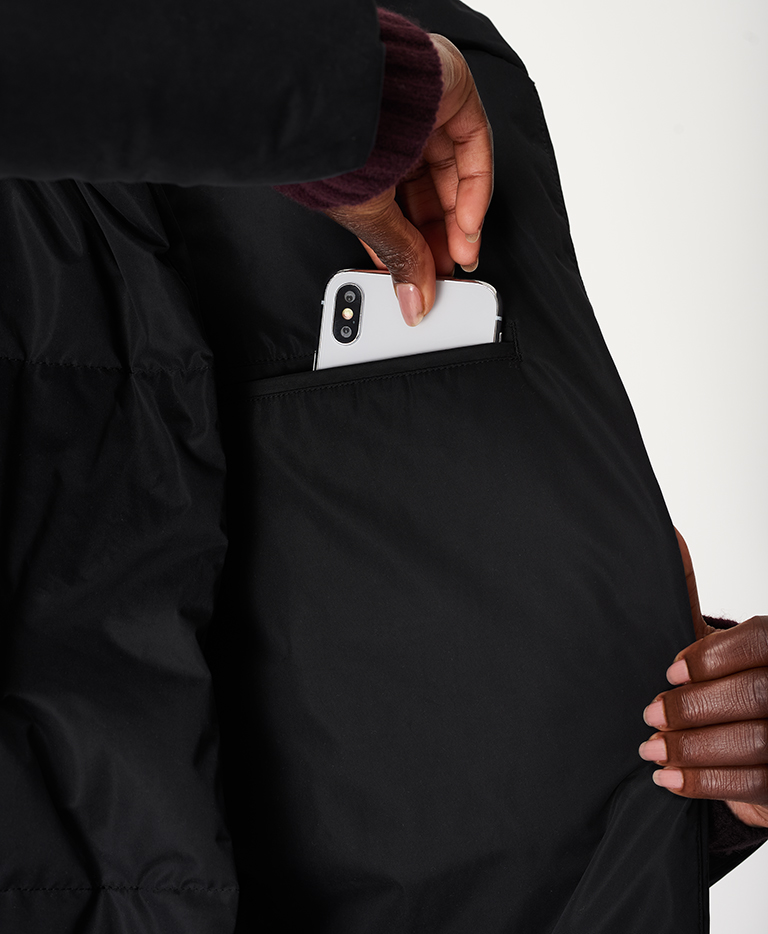 Fits up to an iPhone 11
The Fabric
Keep the elements off with this polyester fabric with down insulation. This Polyester fabric is durable, water and wind resistant.
Composition: Main: 100% Polyester. Body Lining: 100 % Polyester. Pocket Lining: 100% Polyester. Insulation:80% White Duck Down & 20% White Duck Feather.
Care
Wash at 30°C (86°F) on reduced spin. Do not bleach. Do not dry clean. Do not tumble dry. See care label for additional information.
Rated 2 out of 5
by
Anonymous
from
Too big
Unfortunately if you are of a smaller build this will totally swamp you, such a shame that a xxxs isn't available as the cut of the coat is unique and a lovely green colour
Date published: 2020-11-09
Rated 5 out of 5
by
Anonymous
from
A Fabulous and Gorgeous Winter Coat
This coat is amazing! when it arrived last week I couldn't wait for the weather to get cold and it didn't disappoint.
Date published: 2020-11-09
Rated 5 out of 5
by
DedeYork
from
Worth every penny
This coat is all kinds of fabulous. I have cheaper duvet coats for sloshing about with the dog but wanted something a bit more special for everyday slightly smarter wear. This ticks every single box and then some. Looks like one of those really high-end puffas that are ubiquitous amongst the very well-dressed Japanese tourists always out and about in York at about a third of the price. I wore it out yesterday and was asked twice in about as many minutes where I had got it. The finish is brilliant and as everyone else has stated, it really is like being cocooned in a cloud. Cannot recommend highly enough.
Date published: 2020-10-29
Rated 5 out of 5
by
Ollie the Spaniel
from
Well thought out and beautifully engineered coat
I would highly recommend this coat! It looks and feels expensive and now that I have it, I can see the logic of the price point. I am an 8 with slightly wide shoulders. I ordered XS in black and also XXS in green as one had just come back into stock. I am so glad I did as the XXS is by far the better fit. Plenty of room under the arms and around the shoulders. I cannot imagine ever being cold in this coat. Its like a centrally heated stylish cosy cloud. I can see myself wearing just a t shirt and leggings on the coldest day and still being snug. Now that I have it and have seen the length on me, my only issue is really whether this is practical for my very rural existence on Salisbury Plain, surrounding by winter mud and boisterous spaniels, and in and out of my car which is never washed in the winter as there is no point. I think a knee length version would have suited me more but that is just a lifestyle issue. There are freezing cold windy and dry days so it would be perfect for those and for wearing in my drafty old house. I think its definitely worth treating yourself to this coat!!
Date published: 2020-10-29
Rated 5 out of 5
by
1Muttima
from
Beautiful,warm, lightweight and stylish,
Yes, this coat is pricey, but its worth the price because its built to last. It looks and feels great to wear - and so warm, being down filled. The outer fabric has a brushed soft feel. I had trouble deciding on what size to order and originally went for M. I'm between a 10 and a 12 and like my clothing relaxed. However, when it arrived it felt a bit large. I ordered a S for comparison and that felt perfect so the M will go back. There is room for a winter jumper underneath without feeling tight and the warmth of the coat itself means that's really all I will need. Im 173 cm tall and the coat comes to.mid calf. Overall, I'm really delighted.
Date published: 2020-10-28
Rated 5 out of 5
by
Al123
from
The BEST coat EVER!!!
This coat is like being wrapped in a duvet, it is so warm and so cosy, I absolutely love it. I am 5'4' and usually wear an XS in SB outerwear. I went for the XS and although the coat is big in terms of padding the size feels good for me. I love the style, it is super on trend at the moment and will be ideal in the colder months as you can pop it over anything and keep warm. I also love the hood styling, when it is down the shape is really flattering and almost forms a collar, which looks really nice as well as adding extra warmth. If anyone is looking for a well made coat for this winter, look no further, this is a must have! #teamsweatybetty
Date published: 2020-10-27
Rated 5 out of 5
by
runnerkp77
from
Amazing, I can't wait for it to get cold now!
This coat is literally like wearing a duvet, so warm and cozy I just love it! #iamasweatybetty
Date published: 2020-10-25
Rated 5 out of 5
by
FMousley
from
A Winter MUST HAVE
I absolutely adore this coat! It's over-sized in the best way, I have had many compliments and can't imagine my winter without it! I'm a UK 8 and stuck with XS, the body is roomy but it's perfect across the chest and shoulders. #teamsweatybetty
Date published: 2020-10-22
Rated 5 out of 5
by
Kaymac
from
Wow amazing quality coat
I have debated buying this coat as at seemed expensive, however I eventually took the plunge and I am so glad that I did. The coat is truly fabulous and it will keep me warm over the winter coming months . I went for the green as this is my favourite colour and I was not disappointed. I am 5-5 and a size 12 and I debated on the size prior to buying but went for the M and it fits perfect and room for winter layers to keep me warm. The coat is oversized but the M fits perfect on the arms and across by back and chest as this is where it is more fitted If you like a good quality coat that keeps you warm but at the same time the coat as quality you will not be disappointed. Postage fab I ordered and then received the next day . Very pleased and I got 25% NHS discount that was really appreciated for thanks Sweaty Betty
Date published: 2020-10-22
Rated 5 out of 5
by
JennieH
from
Gorgeous coat, such amazing material! So warm!
I bought this jacket and immediately feel in love with it the minute I put it on. The fabrics used in it are amazing quality and it is so light yet so warm. I purchased a size M however it was waaay too big - I'm ordering another one and am so torn whether to get a size S or XS. I'm a size 12 and I know that coat is really roomy around the body but I'm just scared that the XS might not fit across my shoulders but don't want the S to still be too big! If anyone who is a size 12 can advise what they think I'd be very grateful! Thank you!
Date published: 2020-10-19
Rated 5 out of 5
by
Sangu44
from
Like wearing a warm marshmallow
I loved the style of this coat the moment I saw it, as soon as I tried it on I knew it would be perfect going into winter. The coat is oversized (you'll need a bigger wardrobe) yet light, it has a generous hood, fleece lined pockets and an inner pocket. Snuggling into this feels like wrapping yourself in a warm duvet while eating toasted marshmallows... heaven.
Date published: 2020-10-16
Rated 5 out of 5
by
Kim B
from
In-love with this coat!
I brought this coat for the winter. Everyone told me that it's too thick for a UK winter however, I'm using it now and already feeling the benefit. Morning dog walks are already more enjoyable. I get out of bed and put on what feels like another duvet. The pockets are fleece lined also, so no need for gloves. I'm 5ft 3 so it's very long on me but so is everything I buy. I would recommend this coat to anyone who wants comfort and warmth this winter.
Date published: 2020-10-16
Rated 3 out of 5
by
Sammyspendscarefully
from
Is this coat made in the UK
I'm. asking because I've seen a very similar coat, same style, same material on sale for £100, I'm looking to getting a longer verison my North Pole parka which I love - but I wouldn't say it's any warmer than a 'cheaper' (£150 jacket) my sister has. So can you tell me why this is £300+ - I've not lost my job in lockdown but I know a lot of people are taking out Klarna and getting into debt so please tell me that this is worth the money?
Date published: 2020-10-16
Rated 5 out of 5
by
Caroline Inspired
from
Best coat EVER!
I instantly fell in love with this coat when I saw it but didn't think I was tall enough for it, but I thought I'd order it + see what it looks like - and oh my! I love it even more in real life. I'm only 5'2 but the length is absolutely fine! I love the colour + it's very light weight but still feels super cosy + comfy. I love how it comes up high around your head - I love the look of a hood down + wrapped around your neck. Some of the reviews said to go a size down - I'm a SB size XS but they didn't have a XXS but I didn't want XS to sell out so ordered it the size is perfect. Highly HIGHLY recommend!
Date published: 2020-10-15
Rated 5 out of 5
by
Nikki Frith
from
LOVE IT - HOODS AWESOME!
LOVE this coat! Perfect for the school run, keeping warm whilst watching my kids at football practice to feeling super stylish and warm! It's so comfy, love the feel, love the look, in particular the collar and hood. Im a size 8/10 and bought an XS and still room for big jumpers! Thanks Sweaty Betty for another ace coat!
Date published: 2020-10-15
Rated 5 out of 5
by
Cass1234
from
I never want to take it off!
The warmest and most comfortable coat I have ever owned. I was a bit worried when I purchased it as i am 5'4 and though it might look huge on me. I bought an XXS ( I am usually an XS) and it fits well and looks trendy! I love it more than I thought I would! #Teamsweatybettty
Date published: 2020-10-14
Rated 5 out of 5
by
winny_p_12
from
It's like living inside a cloud
I LOVE this coat. I haven't ever had a coat as long as this, but I have 0 regrets going for this style. I am a UK size 14 on top and I went for a large, even thought the fit is oversized, the large fits me perfectly. I feel if I went for a medium the arms might have been a little snug and the shoulders would have been a bit tight for me, especially when layering a thicker jumper underneath. I am an athlete and train/compete outside, and I did wear this between rounds in a competition (being very careful not to get it dirty) but with the temperature dropping, the extra length really helps cover the legs and keep them warm as well as the body. As well as being really practical for braving the cold, it is a really fashionable piece so you'll always be stylishly warm. I could quite happily wear this to training or on a Sunday morning walk but also if I was going out for dinner it looks really nice over a dress and boots or the classic jeans and a nice top. It's really worth getting if you want to invest in a winter coat as it is so versatile! Also to note, the pockets are fleece lined which keep your hand nice and warm and there is an inside pocket for your phone which is really handy for easy access if you don't want to fill the side pockets. I am 5'8" and my Mum is 5'3" and the coat fits us both (My mum is more a UK 16 on top). I hope the photos help for anyone shorter looking to buy this coat. #teamsweatybetty
Date published: 2020-10-12
Rated 5 out of 5
by
Sprinklerofthemagicdust
from
peachy soft warmth in a coat
this coat feels so light yet so warm, especially compared to others out in the market which feel very heavy. the fabric is also super soft but not too thin and i love the matte peached effect. i bought size small and i'm 5'10" and a size 10. it fits well on the shoulders but is nice and roomy for big sweaters underneath. it is the perfect length for me. #teamsweatybetty
Date published: 2020-10-09
Rated 5 out of 5
by
Jillya
from
Great winter coat
This is like being wrapped in a duvet. It's so light and comfortable. I am a 10-12 and bought XS as really oversized
Date published: 2020-10-08
Rated 5 out of 5
by
bakecake14
from
OMG this is like being wrapped in a pillow
This coat is so beautiful and cosy and warm I'm actually looking forward to the colder weather now! Beautiful brushed material, warm down, and the hood and cut is super stylish even though its so big and comfortable. Its also somehow warm but not heavy or too bulky. Fits perfectly for me.
Date published: 2020-10-07
Rated 5 out of 5
by
Crepeaunyc
from
LIKE WEARING A CLOUD
This coat is SO warm and cosy. I would definitely size down if you are getting it I am normally a S but bought an XXS. Feels really premium quality. it is a little long though I am 5'6 and feel it is a good length for the brutal north east american winters.
Date published: 2020-10-07
Rated 5 out of 5
by
ScotinLondon
from
Warmest, cosiest, winter coat!
I cannot wait for it to be really cold so I can wear this all the time, it is so soft and comfortable, literally like wearing a sleeping bag. The fabric is a lovely matt brushed texture, the details are all subtle but with a quality finish, and the pockets are fleece lined! Although poofy the jacket is actually really light and the down means it is great at temp regulation and I won't overheat too much. Love the dark forest green. I am 5ft6 and a size 12, I bought the M and although roomy I wouldn't go down a size as I want to have room to later up underneath it and on trying the S would be too small for this. #teamsweatybetty
Date published: 2020-10-07
Rated 5 out of 5
by
Anna109
from
The best everyday jacket
This jacket feels like a duvet!! It is so cozy and keeps me super warm! It is also very lightweight which I love. I would recommend going down a size I am an XS usually as XXS fits perfectly #teamSB
Date published: 2020-10-05
bvseo_sdk, dw_cartridge, 18.2.0, p_sdk_3.2.0
CLOUD, getReviews, 22ms
reviews, product
<!--begin-bvseo-questions--> <!--begin-questions--> <div id="bvseo-questionsSection"> <div class="bvseo-question-answer" data-questionid="6962634"> <h2 class="bvseo-question"> I usually order mediums in both your leggings and tops I&amp;rsquo;m approx 5ft 7. What size should I order, small or medium? </h2> <div class="bvseo-question-detail"> </div> <div class="bvseo-author">Asked by: Anonymous</div> <div class="bvseo-answer" data-answerid="6344032"> Hi There, Thank you for your question.&#13;&#10;I would recommend going to true to size with this, it is meant to be an oversized fit, like a big hug. I think you&#39;ll love it. <div class="bvseo-author">Answered by: Camilla Carnaby</div> <div class="bvseo-pubdate">Date published: 2020-11-11</div> </div> </div> <div class="bvseo-question-answer" data-questionid="6978019"> <h2 class="bvseo-question"> Im UK 8/10 wanting this coat. Most people similar seem to be buying XS. Also I&#39;m in first few months of pregnancy and wondered if I would have room in XS for an expanding bump, or should I get S? Worried S might be too big after baby weight loss </h2> <div class="bvseo-question-detail"> </div> <div class="bvseo-author">Asked by: TB123</div> <div class="bvseo-answer" data-answerid="6345382"> We would definitely recommend going for a size XS in the Cocoon Down Puffer Wrap Coat for your sizing. The cut of this style is very relaxed around the middle, so plenty of room for a growing belly! <div class="bvseo-author">Answered by: TeamSB @ Oxford</div> <div class="bvseo-pubdate">Date published: 2020-11-11</div> </div> </div> <div class="bvseo-question-answer" data-questionid="6987030"> <h2 class="bvseo-question"> What down fill weight does this coat have? Also, size wise, i&#39;m 5 foot 7 &amp;amp; a size 10 - would you suggest XS or S for the coat to be at its warmest? Thanks! </h2> <div class="bvseo-question-detail"> </div> <div class="bvseo-author">Asked by: El22</div> <div class="bvseo-answer" data-answerid="6345440"> The fill power for the Cocoon Down Puffer Wrap Coat is 600. We would recommend going for a size XS in this style for your sizing. <div class="bvseo-author">Answered by: TeamSB @ Oxford</div> <div class="bvseo-pubdate">Date published: 2020-11-11</div> </div> </div> <div class="bvseo-question-answer" data-questionid="6992023"> <h2 class="bvseo-question"> Is the zipper one way or can you unzip it from the bottom up as well?&amp;nbsp; </h2> <div class="bvseo-question-detail"> </div> <div class="bvseo-author">Asked by: Stepdiggy</div> <div class="bvseo-answer" data-answerid="6344138"> This is one way :-) <div class="bvseo-author">Answered by: Camilla Carnaby</div> <div class="bvseo-pubdate">Date published: 2020-11-11</div> </div> </div> <div class="bvseo-question-answer" data-questionid="7023334"> <h2 class="bvseo-question"> Does it have a zipper or buttons? </h2> <div class="bvseo-question-detail"> </div> <div class="bvseo-author">Asked by: caroG</div> <div class="bvseo-answer" data-answerid="6373789"> Thank you for the question. It does have a zip and a popper button. <div class="bvseo-author">Answered by: Camilla Carnaby</div> <div class="bvseo-pubdate">Date published: 2020-11-24</div> </div> </div> <div class="bvseo-question-answer" data-questionid="6954656"> <h2 class="bvseo-question"> It says Do not Tumble Dry. Not even on low? I&amp;rsquo;m worried it would lose it&amp;rsquo;s puffiness without a tumble. </h2> <div class="bvseo-question-detail"> </div> <div class="bvseo-author">Asked by: Hanny8</div> <div class="bvseo-answer" data-answerid="6299852"> We would recommend adhering to the care instructions and avoid tumble drying the Cocoon Down Puffer Wrap Coat to avoid shrinkage/premature aging of the fabric. The filling combination of down and feathers will ensure the coat keeps it&#39;s lovely shape. <div class="bvseo-author">Answered by: TeamSB @ Oxford</div> <div class="bvseo-pubdate">Date published: 2020-10-23</div> </div> </div> <div class="bvseo-question-answer" data-questionid="6917202"> <h2 class="bvseo-question"> Hello, is this coat water proof? You say &#39;water resistant&#39; does that mean it will hold out rain? Thanks </h2> <div class="bvseo-question-detail"> </div> <div class="bvseo-author">Asked by: Deepoet</div> <div class="bvseo-answer" data-answerid="6269627"> By water resistant rather than waterproof, we mean the garment will repel water to a certain extent. It will endure light showers of rain for a small amount of time. <div class="bvseo-author">Answered by: TeamSB @ Oxford</div> <div class="bvseo-pubdate">Date published: 2020-10-10</div> </div> </div> <div class="bvseo-question-answer" data-questionid="6977262"> <h2 class="bvseo-question"> Hello! Will you be getting any more puffer jackets (small green) &amp;nbsp;back in to order online?&amp;nbsp;&#13;&#10;Thanks&amp;nbsp; </h2> <div class="bvseo-question-detail"> </div> <div class="bvseo-author">Asked by: Anonymous</div> <div class="bvseo-answer" data-answerid="6345378"> We are unfortunately not currently expecting a replenishment of the green Cocoon Down Puffer Wrap Coat in a size S, please accept our apologies for the disappointment. It is always worth keeping an eye on the website though in case this alters! <div class="bvseo-author">Answered by: TeamSB @ Oxford</div> <div class="bvseo-pubdate">Date published: 2020-11-11</div> </div> </div> </div> <script type="text/javascript"> if (document.getElementById('bvseo-questionsSection')) { document.getElementById('bvseo-questionsSection').style.display = 'none'; } </script> <!--end-questions--> <!--begin-pagination--> <ul id="bvseo-paginationSection"> <li class="bvseo-paginationItem"><a class="bvseo-paginationLink" href="https://www.sweatybetty.com/us/shop/tops/coats-and-jackets/cocoon-down-puffer-wrap-coat-SB5925_Black.html?geCountry=US&geCurrency=USD&bvstate=pg:2/ct:q">Cocoon Down Puffer Wrap Coat Questions - page 2</a></li> </ul> <!--end-pagination--> <ul id="BVSEO_meta" style="display:none!important"> <li data-bvseo="bvDateModified">y_2020, m_11, d_27, h_16CST</li> <li data-bvseo="ps">bvseo_bulk, prod_bvqa, vn_bulk_3.0.12</li> <li data-bvseo="cp">cp_1, bvpage1</li> <li data-bvseo="co">co_hasquestionsanswers, tq_32</li> <li data-bvseo="cf">loc_en_US, sid_SB5925_Black, prod, sort_[SortEntry(order=NUM_ANSWERS, direction=DESCENDING)]</li> <li data-bvseo="diagnostics">clientName_sweatybetty</li> </ul> <!--end-bvseo-questions--> <ul id="BVSEOSDK_meta" style="display: none !important;"> <li data-bvseo="sdk">bvseo_sdk, dw_cartridge, 18.2.0, p_sdk_3.2.0</li> <li data-bvseo="sp_mt">CLOUD, getContent, 107ms</li> <li data-bvseo="ct_st">questions, product</li> </ul>