Explorer 25" Pants
Details
https://www.sweatybetty.com/us/shop/bottoms/pants/explorer-25%22-pants-SB5376A_DarkForestGreen_25Inseam.html
The throw-on trousers you'll wear all year round. Lightweight and crease-free Italian fabric. High elasticated waist with drawcord and 2 side pockets. Tapered leg for a flattering fit. Inseam length: 25" / 64cm. Model wears size S and is 178cm/5'10" tall. Style Code: SB5376A FLColour: Dark Forest Green
The throw-on trousers you'll wear all year round.
Lightweight and crease-free Italian fabric.
High elasticated waist with drawcord and 2 side pockets.
Tapered leg for a flattering fit.
Inseam length: 25" / 64cm.
Model wears size S and is 178cm/5'10" tall.
Style Code: SB5376A FL
Colour: Dark Forest Green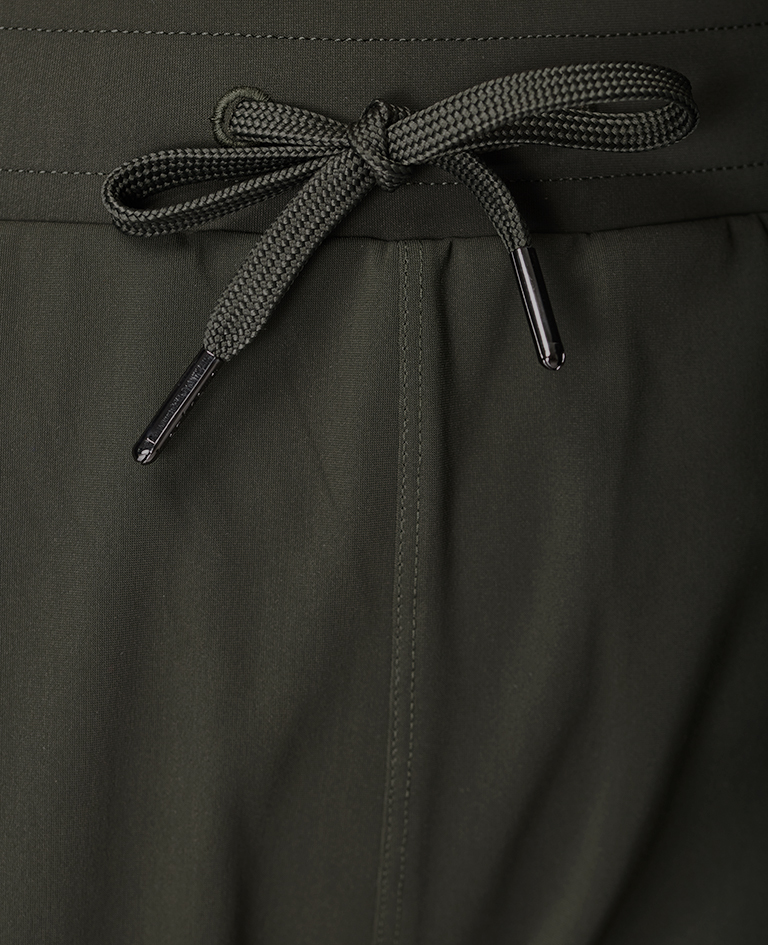 Ensures the perfect fit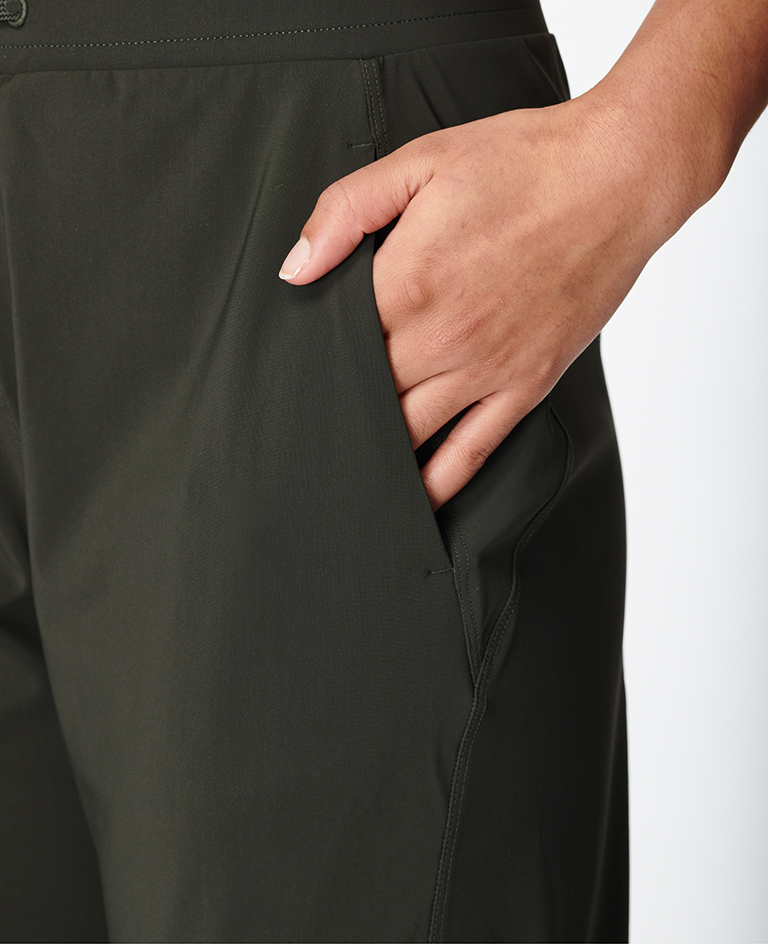 For your essentials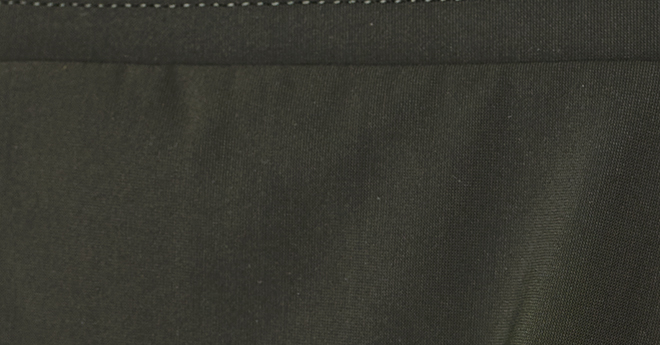 The Fabric
Composition: 71% polyamide 29% elastane
Care
Wash at 40°C (104°F) on reduced spin. Do not bleach. Do not dry clean. See care label for additional information.
Rated 5 out of 5
by
L. MacG
from
Explorer 25 trousers.
I haven't worn the trousers yet but the material feels nice, they fit well and I will be able to wear them casually with trainers or dressed up with loafers. I bought XS and they are true to size. I would normally wear 8/10. I love Sweaty Betty products but wish packaging was more sustainable.
Date published: 2021-03-31
Rated 4 out of 5
by
SNichols
from
Flattering comfy light trousers
Bought these trousers for working from home and walking the dog. They're comfy, lightweight - so good now the weather is getting warmer (they probably won't be warm enough in colder weather), and are really flattering. I'm usually a size 10 in trousers and got a size S, they're a bit big so could have sized down but with the draw string it doesn't matter too much so kept the S. Also I am 5ft1 and these are more like full length trousers on me. Would be great if SB did a shorter length option for these as they do for other products!
Date published: 2021-03-31
Rated 5 out of 5
by
ERoss
from
The best every day wear trousers
I have looked at these trousers for a while and finally decided to try them after my friend recommended them. They are the most comfortable trousers I own. I now have them in all 3 colours.
Date published: 2021-03-28
Rated 5 out of 5
by
Alrae37
from
Easy & Comfortable
The fabric on these is so comfortable and stretchy, so easy to wear and nice fit around the waist
Date published: 2021-03-25
Rated 5 out of 5
by
Olenka.
from
Excellent
I'm really surprised how comfortable, light weight and yet nice looking these are. Definitely buying a second pair and wishing more colours were available.
Date published: 2021-03-19
Rated 5 out of 5
by
Sue12
from
Versatile and comfortable
Having initially bought my usual size medium 12, i sadly had to return them as they were far too big. I did however replace them with a size down, which fitted perfectly. They are amazing trousers. They are lightweight, stretchy and feel very cool and so comfortable. A quality product all round. I will probably order the other colour too.
Date published: 2021-03-18
Rated 5 out of 5
by
TL - London
from
Very happy with purchase
Lovely luxurious feel to the fabric. Plenty of give, so suitable for fitness studio or outdoor activities. Good length. Very happy with purchase. Bought in blue as well.
Date published: 2021-03-15
Rated 5 out of 5
by
Soooo
from
Very flattering
I bought these having read a previous review by a lady who said that they suited her larger calves. I'm delighted to say that she's right and that my larger than average calves can fit into these trousers without you having to pull them down the whole time, which is a joy. They are a lovely lightweight material and will surely get a lot of use in the warmer weather.
Date published: 2021-03-12
Rated 1 out of 5
by
Price to high
from
Price gouge
I was loving the look of these pants and read the reviews. When I went in to order and saw the price I had to back it. If you're made of money then I guess these are for you but to us ordinary folks, no thanks.
Date published: 2021-03-06
Rated 5 out of 5
by
annieh0404
from
Flattering, comfortable and easy to wear
These fit brilliantly and are easy to pull on. With the lightweight material they're easy to dress up or down and easily work for cycling to work or long walks. The fit and length is great. #teamsweatybetty
Date published: 2021-03-04
Rated 3 out of 5
by
Datatec1
from
Not the same material!!
I absolutely love my explorer trousers and have been waiting for forest green to come back into stock so that I could buy another pair. However, these are clearly 'summer' versions as the material has changed completely with no reference to that at all! ☹️ Mine will be returned
Date published: 2021-02-22
Rated 5 out of 5
by
EmilyMM
from
Game changers!
These have to be the best SB trousers I've bought! Lightweight, super comfy and stretchy- I can just imagine cycling in these all the time when it gets warmer. Yes they are thinner than last years but the qualities still great and think they'll last ages like all my SB stuff. I read the reviews before buying and even though a lot said to size down I actually got my usual size and they fit perfect! #teamsweatybetty
Date published: 2021-02-12
Rated 5 out of 5
by
Kendra
from
Comfortable and Modern Styling
I absolutely love these pants. I am on the shorter side (5'4") with curves and a small waist and these are an amazing fit for me. I have athletic legs with larger calves and these are not too tight at the bottom for me which is where I usually struggle with trousers like these. I am going to order in another color because these are just so versatile, comfy enough for lounging but smart enough for errands or even casual work environment.
Date published: 2021-02-10
Rated 5 out of 5
by
Lileks
from
Flattering, comfy work to sports versatility
These are the trouser version of the cuffed Gary Lightweight yoga pants I' d been waiting for for so long. The fabric is lightweight, stretchy and flowy, the waistband wide and comfy. These can be worn to work with a formal jacket, and work as well at the gym. Which I do. I am short and round, and these really flatter me. I have 5 pairs of the cuffed ones in the same fabric, and I wear them every day, summer and winter. Please note, these are not formal cut pants and I would keep in mind that the material is not thick. Also, they are not clinging but flowy and fairly wide. You might want to try a size smaller if you want a tighther fit. That said, they are gorgeous, and I cannot wait to get them in more colours.
Date published: 2021-02-07
Rated 5 out of 5
by
Tilz
from
Look great
I love the look of these on and they make a great change from wearing leggings all day and are still super comfy and lightweight. #teamsweatybetty
Date published: 2021-02-04
Rated 4 out of 5
by
Soozles
from
Lovely lightweight, casual, comfy
These are really more airforce/teal than classic navy blue, my only downside however i have kept them as they are super comfy I am 5ft 9.5 and medium was fine, a good fit. I am not very hippy, and not petite - i am a strong build but even my calves Which I would say are chunky- the leg was not tight which another reviewer had found.
Date published: 2021-01-29
Rated 5 out of 5
by
Ra123
from
Super comfortable
I hate running in tight leggings. And in winters you just can't run in shorts. These were perfect for my needs as are lose and long, and super light weight. You might want to buy a size smaller. I am on the heavier built side, yet they were a tad bit too lose (or it might be my running effect :).
Date published: 2021-01-11
Rated 4 out of 5
by
LDD2021
from
Great Every Day Trousers
Extremely comfortable every day trousers for when you need a break from leggings and want to feel like you're making more of an effort. They are very light and made from a thin material but this is something I like, as they will pack up small when travelling and I just wear a thin thermal under them in the winter. The cut along the side/front is a bit strange but I suppose that was just the style they were going for.
Date published: 2021-01-05
Rated 1 out of 5
by
Laura_95
from
Unfortunately not for me
I was so excited to try these unfortunately the fit wasn't flattering on me especially on my bum. I bought my usual size which I purchase my leggings but they were really large. Material did not feel as expensive as I thought for the price.
Date published: 2020-12-24
Rated 2 out of 5
by
NicLeitrim
from
Not the best leg shape for me
Had been very keen to try these trousers but was disappointed in the fit on the legs for me. Waist and bum fit was good, material lovely and so comfortable. The leg shape was wrong for me, may suit someone with thinner calves as found the material/shape around the knee was odd. Would have in every colour if had a straight leg and were an inch longer. Returning and will get another pair of yoga pants
Date published: 2020-12-17
Rated 1 out of 5
by
Domi94
from
Cheap downgrade on the old version, beware
A cheeky downgrade from the amazing original design. I bought my first pair of explorer trousers from Sweaty Betty a year ago, they were a perfect pair of smart WFH bottoms. I wore them to death! They've sadly since seen some pilling & a small hole in the side so I decided to replace them with the exact same trousers at the same price, or so I thought... I'm beyond gutted. Metal branded eyelets removed from drawstrings, thinner flimsier material overall, including a rubbish waistband and they even removed the zips from the pockets along with the quality net lining. Not to mention, a poor and unflattering fit, figure hugging in all the wrong places as a result of the flimsy material. Save your money and don't buy these, absolutely not worth it.
Date published: 2020-12-14
Rated 3 out of 5
by
Nynaeve
from
Not the right fit for me
Love how versatile these trousers are. High quality and smart without being fussy (ie. no wrinkles!) Only drawback is that the fit on me personally isn't the best - lots of fabric in the front so not sure if it's flattering. And my calves are on the thicker side so the bottom of the trousers gets 'caught'. #teamsweatybetty
Date published: 2020-11-06
Rated 5 out of 5
by
Lucy1998
from
Favourite trousers
These are genuinely the most flattering trousers I own and so comfortable. I'm 5'4 and prefer a cropped look, so it would be good if they came with a short option as well. However I just fold the bottom of the trouser up and they still look great.
Date published: 2020-10-15
Rated 5 out of 5
by
Jo57
from
Great pants
Great pants but could be a bit longer. I bought M and I am 5'5". I would have liked them 2 inches longer.
Date published: 2020-10-13
Rated 5 out of 5
by
JackieM
from
Worth the Wait!
I bought these trousers for comfortable working from home trousers. They have been out of stock for awhile but just received my trousers and they are well worth the wait. They look good, feel great and can be dressed up or down. Hope to see these in multiple colours in the future.
Date published: 2020-10-11
Rated 5 out of 5
by
Dommi
from
Amazing! More colours please
I was worried that they may be too long as I am 165cm but they fit lovely I sometimes wrap them once or twice so they are above my ankle. So comfy lovely for a casual look. Good for work or just a day out with a baby
Date published: 2020-09-25
Rated 4 out of 5
by
JoBe
from
Stylish addition
I bought these as I needed a relaxed fit trouser that was comfy and versatile (school run, weekend walks, Sunday brunch out), these fit the bill perfectly. I am 5'2 and was worried these might not look right, but they fit perfectly. I bought a Small and am usually a size 10. The material is a sport lux fabric, and doesn't crease. My only comment would be the side seam which runs down the thigh and then slightly across the front of the trouser, I think this is deliberate to create the cut which is flattering but initially I wasn't sure about it.
Date published: 2020-09-23
Rated 3 out of 5
by
AGG4
from
Gorgeous to wear - but terrible to wash
These are so comfortable, surprisingly smart and I've had so many compliments about them. So far so great. BUT. The first time I washed them (on a 30 degree wash - because there's no washing care label inside I had to make a best guess), they pilled. The second time, they pilled really badly. They're still comfortable but no longer smart and I'm glad I didn't buy them at full price.
Date published: 2020-09-23
Rated 5 out of 5
by
Cooper2020
from
Great trousers!
These are a great alternative to wearing leggings. I even put a blouse on with them the other day and received so many compliments. I wear a M in the SB leggings and bout a M in these as well. Probably could have taken a small, but like the looser fit. Please come out with a navy as well!
Date published: 2020-08-23
Rated 2 out of 5
by
KatM81
from
Not what I expected
I must be the only one who don't like those trousers. I was very excited to receive them after reading all those amazing reviews but very disappointed when I got them. Fabric is very thin which i wouldn't mind but I don't like how they feel.they look like baggy cheap leggings. Definitely not worth a price. Also they do run extremely large. Im UK size 10(waist)-12(hips) and i ordered size S and they are still quite big. I will be returning mine. Also people who's saying these are smart trousers clearly don't know how smart trousers look. These are more like longwear or pants to go for long walks in a park. I have given 2* because I do like Sweaty Betty as a brand and rest of the stuff i have from them are fabulous.
Date published: 2020-08-21
bvseo_sdk, dw_cartridge, 18.2.0, p_sdk_3.2.0
CLOUD, getReviews, 9ms
reviews, product
<!--begin-bvseo-questions--> <!--begin-questions--> <div id="bvseo-questionsSection"> <div class="bvseo-question-answer" data-questionid="6782995"> <h2 class="bvseo-question"> Thank you for answering my question. It&amp;rsquo;s just a shame that you cannot use European countries to make your products. Is it not possible to show where each item is made? </h2> <div class="bvseo-question-detail"> </div> <div class="bvseo-author">Asked by: Cheeky Shaz</div> <div class="bvseo-answer" data-answerid="6172132"> Our Explorer Lightweight Trousers are made in Turkey. Thank you for your feedback, we will pass this along to the relevant team and appreciate you sharing your thoughts. <div class="bvseo-author">Answered by: TeamSB @ Customer Care</div> <div class="bvseo-pubdate">Date published: 2020-08-20</div> </div> </div> <div class="bvseo-question-answer" data-questionid="6939254"> <h2 class="bvseo-question"> My hip measurement is 39 inches - should I go for Size S or M? </h2> <div class="bvseo-question-detail"> </div> <div class="bvseo-author">Asked by: Sharon Lee Tan</div> <div class="bvseo-answer" data-answerid="6281451"> We would recommend going for a size S in the Explorer Pants for your sizing. <div class="bvseo-author">Answered by: TeamSB @ Oxford</div> <div class="bvseo-pubdate">Date published: 2020-10-15</div> </div> </div> <div class="bvseo-question-answer" data-questionid="7021808"> <h2 class="bvseo-question"> I am between a size 14-16 and wear a size L in the Power leggings. Should I go for L or XL? </h2> <div class="bvseo-question-detail"> </div> <div class="bvseo-author">Asked by: Emar</div> <div class="bvseo-answer" data-answerid="6373823"> Thank you for the question. I would suggest a L for these, especially if you wear a L in leggings as these fit oversized. <div class="bvseo-author">Answered by: Camilla Carnaby</div> <div class="bvseo-pubdate">Date published: 2020-11-24</div> </div> </div> <div class="bvseo-question-answer" data-questionid="6765579"> <h2 class="bvseo-question"> Where are they made please ? </h2> <div class="bvseo-question-detail"> </div> <div class="bvseo-author">Asked by: Cheeky Shazz</div> <div class="bvseo-answer" data-answerid="6159891"> Our Explorer Lightweight Pants are made in Turkey. <div class="bvseo-author">Answered by: TeamSB @ Customer Care</div> <div class="bvseo-pubdate">Date published: 2020-08-13</div> </div> </div> <div class="bvseo-question-answer" data-questionid="6748136"> <h2 class="bvseo-question"> Are these true to size? If I&amp;rsquo;m a UK 10/12 and wear an M in SB leggings would I wear an M in these? </h2> <div class="bvseo-question-detail"> </div> <div class="bvseo-author">Asked by: MicheleD</div> <div class="bvseo-answer" data-answerid="6134341"> If you are between sizes I would recommend a S for our trousers <div class="bvseo-author">Answered by: TeamSB @ City</div> <div class="bvseo-pubdate">Date published: 2020-08-05</div> </div> </div> <div class="bvseo-question-answer" data-questionid="6733919"> <h2 class="bvseo-question"> What are the measurements of this garment - id like to know the inside leg measurement&amp;nbsp; </h2> <div class="bvseo-question-detail"> </div> <div class="bvseo-author">Asked by: Caroline B</div> <div class="bvseo-answer" data-answerid="6127414"> The inseam length on our Explorer Lightweight Trousers is 67 cm / 26.5 inches. <div class="bvseo-author">Answered by: TeamSB @ Customer Care</div> <div class="bvseo-pubdate">Date published: 2020-08-05</div> </div> </div> <div class="bvseo-question-answer" data-questionid="6752581"> <h2 class="bvseo-question"> What is the inseam length of the trousers? </h2> <div class="bvseo-question-detail"> </div> <div class="bvseo-author">Asked by: victoria.akh</div> <div class="bvseo-answer" data-answerid="6140526"> The inseam measurement of our Explorer Lightweight Trouser is 67cm / 26.5 inches. <div class="bvseo-author">Answered by: TeamSB @ Customer Care</div> <div class="bvseo-pubdate">Date published: 2020-08-05</div> </div> </div> <div class="bvseo-question-answer" data-questionid="6849412"> <h2 class="bvseo-question"> What size should I order? </h2> <div class="bvseo-question-detail"> </div> <div class="bvseo-author">Asked by: LesleyB</div> <div class="bvseo-answer" data-answerid="6213494"> It&#39;s a little tricky for us to give you recommendations without knowing your sizing. Please have a look at our size guide for waist and hip measurement guidelines:&#13;&#10;https://www.sweatybetty.com/size-guide <div class="bvseo-author">Answered by: TeamSB @ Oxford</div> <div class="bvseo-pubdate">Date published: 2020-09-11</div> </div> </div> </div> <script type="text/javascript"> if (document.getElementById('bvseo-questionsSection')) { document.getElementById('bvseo-questionsSection').style.display = 'none'; } </script> <!--end-questions--> <!--begin-pagination--> <ul id="bvseo-paginationSection"> <li class="bvseo-paginationItem"><a class="bvseo-paginationLink" href="https://www.sweatybetty.com/us/shop/bottoms/pants/explorer-25%22-pants-SB5376A_DarkForestGreen_25Inseam.html?geCountry=US&geCurrency=USD&bvstate=pg:2/ct:q">Explorer 25&quot; Pants Questions - page 2</a></li> </ul> <!--end-pagination--> <ul id="BVSEO_meta" style="display:none!important"> <li data-bvseo="bvDateModified">y_2021, m_4, d_12, h_16CST</li> <li data-bvseo="ps">bvseo_bulk, prod_bvqa, vn_bulk_3.0.14</li> <li data-bvseo="cp">cp_1, bvpage1</li> <li data-bvseo="co">co_hasquestionsanswers, tq_19</li> <li data-bvseo="cf">loc_en_US, sid_SB5376A_DarkForestGreen_25Inseam, prod, sort_[SortEntry(order=NUM_ANSWERS, direction=DESCENDING)]</li> <li data-bvseo="diagnostics">clientName_sweatybetty</li> </ul> <!--end-bvseo-questions--> <ul id="BVSEOSDK_meta" style="display: none !important;"> <li data-bvseo="sdk">bvseo_sdk, dw_cartridge, 18.2.0, p_sdk_3.2.0</li> <li data-bvseo="sp_mt">CLOUD, getContent, 153ms</li> <li data-bvseo="ct_st">questions, product</li> </ul>