Power Workout Dress
Details
https://www.sweatybetty.com/us/shop/bottoms/dresses-and-jumpsuits/power-workout-dress-SB5683_Black.html
Body Length: 33.5"" / 85cm and differs slightly depending on size. Shorts Inseam: 5 13cm. Made from our best-selling, super stretchy Power fabric. In-built body with supportive shorts with side pocket. In-built bra with light support. Model wears size S and is 178cm/5'10" tall. Style Code: SB5683Colour: Black
Features
Body Length: 33.5"" / 85cm and differs slightly depending on size.
Shorts Inseam: 5 13cm.
Made from our best-selling, super stretchy Power fabric.
In-built body with supportive shorts with side pocket.
In-built bra with light support.
Model wears size S and is 178cm/5'10" tall.
Style Code: SB5683
Colour: Black
Fabric
This polyamide elastane fabric is super supportive, soft and moisture wicking. Its high elastane content helps to sculpt the body, providing support and creates a flattering silhouette.
Composition: Main: 62% Polyamide, 38% Elastane. Contrast: 89% Polyamide, 11% Elastane
Care
Wash at 40°C (104°F) on reduced spin. Do not bleach. Do not dry clean. See care label for additional information.
Rated

4

out of

5
by
Carlaj2
from
Good length and fit, shame about the pockets
I bought this as a tennis dress. I am an older player so I don't like very short dresses and the built in shorts are perfect. However as a right handed player, like most people, the pocket in the dress should have been put on the left side, or both sides maybe, do you can keep a spare ball in easily whilst holding your racket
Date published: 2022-07-15
Rated

5

out of

5
by
RunningUpThatHill
from
Great to run in
I'm 5.8" size 8 on top, size 10 bottom half. Ordered a small….fits perfectly. I think the model in the photographs must be really tall as the dress is much longer on me. For me personally I don't mind pulling the dress up over my body to get it on (kind of like a swimming costume). I bought the dress last year and have been running regularly in it. Feels great, no rubbing, washes well. There is slight padding on the bust, the top is nice and fitted, the bottom half flares out a bit but I guess you need that in order to move in it freely. Someone in an earlier review wondered if it was appropriate for someone a bit older. I'm in my 40s and it is absolutely appropriate for any age :)
Date published: 2022-07-13
Rated

3

out of

5
by
Quigs77
from
Great dress sizing off
Love the make and style of this dress but I wish there was a petite. I'm 5ft tall and the is so much inner lining that bunched up on the inside I had to send it back. Can't fault sweaty better for their return policy it was so easy and fast.
Date published: 2022-07-12
Rated

4

out of

5
by
Ellen67
from
Impossible to put on.
This is my 5th sweaty Betty tennis dress and I agree they are impossible to put on and take off. You really should do the shorts separately. I have a very long torso and ended up cutting the shorts off. Other than that I love the tennis outfits from sweaty Betty.
Date published: 2022-07-07
Rated

3

out of

5
by
Parchita
from
It just needs a zip in the side
So hard to get on and off without a zip Other than that - great dress
Date published: 2022-06-17
Rated

4

out of

5
by
Laurapeck
from
Watch for the discount
I bought this in store. Dress is fine but slightly annoyingly the next day there was a 20% discount online.
Date published: 2022-06-16
Rated

4

out of

5
by
Aged Blonde
from
Bigger Pocket Please
This dress works really well for running and it looks lovely. Two pockets are a great idea; I only wish you would make the phone pocket in the shorts slightly bigger for plus size phones as this is what a lot of us have.
Date published: 2022-06-13
Rated

3

out of

5
by
ClaraC
from
Fabulous. Comfy, but a little impractical
The dress is great, incorporates everything you need for a tennis match on one package. However, if you are playing for longer than an hour you're going to need to use the bathroom..... and you have to take the whole thing off to do so....... so with a sweat on and probably sun cream I decided that it was no good for me. Shame because I loved it!
Date published: 2022-06-09
Rated

5

out of

5
by
Sweatbettyfan2022
from
Great workout dress!
Super comfy workout dress. The built in short are soft and stay in place. I will be buying more of this dress.
Date published: 2022-06-02
Rated

3

out of

5
by
us_marie
from
Impossible to get on for someone with a bum
This dress is pretty cute and practical for running IF you don't put on deodorant or sunscreen until after it's on and you don't plan on peeing until after you get home and peel it off. I had to squeeze my apparently enormous bottom through the neck hole and then kind of wiggle my shoulders through each strap one at a time, and that made the top of the dress stretch out of shape so that it's loose on top :( Why the heck are the shorts built into the dress if the neckline is so small? I've never had this problem with any other clothing, including one-piece swimsuits. If the shorts were separate I'd buy this again, but as it is I'm pretty disappointed. Considering cutting out the shorts like others have suggested but don't particularly want to buy another pair of bike shorts to match...
Date published: 2022-06-01
Rated

4

out of

5
by
CovidComfortClothes
from
TBH, love it once it's on
I know it's a struggle to get on, and I hate the way the ta-ta tamers are loose (why don't more companies sew them in), but when it is on it's ridiculously comfy. I'm 55 and it's a respectable length dress that allows me to feel like I'm in exercise gear without looking that way. Wish the colors were more "summery"--bought the black, but that and all the others seem like it's made for mid-winter.
Date published: 2022-05-30
Rated

3

out of

5
by
V A B
from
quality good - fit poor
Unfortunately just not a good fit on me - was shapeless. Otherwise quality seemed good, just not for me
Date published: 2022-05-20
Rated

5

out of

5
by
Tennislady702
from
Show off
I feel like a million bucks in this dress. It's slimming and my chest looks amazing. Who cares if it's a little hard to get on and off? I have 3 and just ordered another color. I really wish they'd make it in Oxford Blue!
Date published: 2022-05-03
Rated

2

out of

5
by
puzzledoveradress
from
HOW DO YOU PUT IT ON?
Ladies, help me. I am questioning my intelligence here. Shorts on the bottom, no entry points anywhere. Am I supposed to squeeze my hips through the opening for the neck? I am breaking my head over here. How do you all get into the dress?
Date published: 2022-04-20
Rated

5

out of

5
by
KarenT1971
from
Lovely dress very pleased
Fits lovely and will be perfect for tennis , recommend
Date published: 2022-04-07
Rated

2

out of

5
by
Tennis2611
from
Not suited for big bust
I bought this dress for tennis but unfortunately it was too small through the bust, and the cut does not support a larger chest. The dress is lovely, and would be perfect for those with smaller chests.
Date published: 2022-02-26
Rated

5

out of

5
by
Sally456
from
Perfect tennis dress - more colours please!
I have purchased two of these dresses for tennis. They are perfect. I would purchase more if there were other colours (not the mixed colour one that is available). Please, please, please add other colours.
Date published: 2022-01-07
Rated

5

out of

5
by
Nina8
from
Very flattering
I ordered size S and I'm 5'6/1,67m, 9.3st/59Kg it fit perfectly, I love the fabric and my body looks great in it (I haven't felt like this in a while).
Date published: 2021-12-30
Rated

4

out of

5
by
minigrrl
from
Love this dress
I love this dress so much. I got the patterned one and now have ordered the black one (and the red one in the style with the zipper that gets a really low rating). The built in shorts were a nice idea but it sucked going to the toilet with even a drop of sweat on you (which is a given for like 8 months of the year here in Brisbane), I wasn't up for the struggle street. I cut the shorts out and can see no difference at all to the fit with the shorts gone. I just wear a regular pair of bike shorts underneath. I wear the dress everywhere. Dress it up with heels for dinner, ride my bike in it, wear it over my swimmers to the pool. Love it! (I wouldn't pay full price for either dress, btw, because of having to cut the shorts out, but on sale they are totally worth it.) I got a large but probably could have fitted the medium - I was thinking the large might be a touch longer - not sure if that's true or not, but I'm happy with the size.
Date published: 2021-11-12
Rated

5

out of

5
by
Betty 2
from
Fabulous dress for tennis
I bought this on the basis it was not too short and looked a well made outfit with lots of useful quality detail. I wasn't disappointed, its a really super dress and a modest length for my age. The midriff section of the dress does fit quite snuggly though, which Im using as an incentive to lose those lockdown inches!!!
Date published: 2021-10-22
Rated

5

out of

5
by
Eka116ku
from
One of the most practical pieces of clothing I hav
1) I have wide shoulders, some belly, smaller bottom,- the dress fits great this type of figure. 2)I am 175-80,- size L is great, length is great, fit is great. 3)material is quite thick, but if it wasn't it wouldn't fit so well 4)SOOOO PRACTICAL: I can work out in it, I can run in it (good boobies support too,- no need for extra top,- and I am breastfeeding now!). Btw, easy to breastfeed in it. I walk the dog in it, I can wipe my covered in saliva hand on the shorts… I can just go out in hot weather anywhere I want to in it,- it looks great. If I sweat - it doesn't have visible wet circles. Is durable! Is great for hiking. I am buying another black one, I wish they had more colours,- the colourful one isn't my cup of tea.
Date published: 2021-09-26
Rated

2

out of

5
by
Sknewman
from
Great but too long
I loved the fit of the upper half of this dress and the fact that there are pockets in the shorts and the dress. The material is a little thick for a tennis dress or for other exercise. It is also really long. I am only 5ft3 and I like to have tennis dresses above the knee but this almost gets to the knee making it feel like a lot of material to play In. I'm really sad as it is great otherwise- I'm going to have to return it due to the length. Please SB can you bring out a petit length? I would recommend this to someone tall! Or who likes a longer fit.
Date published: 2021-09-24
Rated

5

out of

5
by
ellie118g
from
The most flattering workout dress!
This dress fits perfectly! It is extremely practical, with plenty of pockets and the material is super sweat wicking. I've been wearing this dress to play tennis as well as for days out.
Date published: 2021-09-11
Rated

5

out of

5
by
Mmcl
from
Versatile gym dress
This dress has been a summer staple, used for walking,running and occasionally the gym. It's just the right length and fairly easy to get on and off. Looks stylish as well as functional. I ordered two sizes small and medium as I would normally wear a small in a S/B too and medium bottoms but the dress in small was a perfect fit. I love the fact that it has a pocket for your phone/ key. I would definitely recommend it
Date published: 2021-09-09
Rated

1

out of

5
by
HLFish
from
Too hard to get on, it needs zips
I loved the idea of this dress but getting it on oh my
Date published: 2021-09-09
Rated

5

out of

5
by
MelissaInCalifornia
from
My New Favorite Running Gear!
It's going to be hard to go back to running tights after wearing this dress for my runs. It's so comfortable, breathes well, and is super cute. I do wish the pockets were either tighter or had a button. My only issue is that my phone moves around a bit too much during my run. I sewed a button on the inside pocket and fixed the problem though. Absolutely LOVE this dress for running!
Date published: 2021-09-06
Rated

3

out of

5
by
CaronD
from
Bulky compared to last seasons. Version
This dress feels quite bulky compared to the strappy version from last season. From a fit perspective I had to go up a size to get comfort around the tummy, which meant it was a little big on top. The fabric feels heavier too. Much preferires the previous style
Date published: 2021-09-04
Rated

5

out of

5
by
BallGirl
from
LOVE this dress!
I tried lots of different tennis dresses before but this one is seriously the best. I'm 5ft 9 and size 16, all the other tennis dresses I've tried seem to be designed for people who don't have lumps and bumps! The other reviews are right, it's really flattering. Not too keen on the patterns but I'd definitely buy more in other colours if they were available. Navy, dark grey etc would be great. PLEASE SB make some more colours available….pretty please!
Date published: 2021-09-03
Rated

5

out of

5
by
yogadowndabayou
from
I just bought another Color! Just beautiful!
Okay so I have to say.....I don't do a lot of reviews...to busy...whatever excuse right. I had to do this one! This is one of the cutest items I own now and I just got another one and am waiting for more. I do not find this to be a pain in the butt to get off and on. It is simply the most prettiest dress...comfortable...sexy....cute....all in one item! I can't wait to buy more! For reference...I am a strong and muscular woman. My size is XL...and it fits fabulous and makes me look fabulous!
Date published: 2021-08-25
Rated

5

out of

5
by
Marion13
from
Flattering and comfortable
Based on previous reviews, I expected this to be a tight fit and difficult to get into but it turned out to be on the slightly wider side (I am between S and M in sizing and the S fit perfectly) and fairly easy to get on. It is very comfortable and flattering. The only issue is using the bathroom as you need to take off the entire thing.
Date published: 2021-08-23
bvseo_sdk, dw_cartridge, 18.2.0, p_sdk_3.2.0
CLOUD, getReviews, 17ms
reviews, product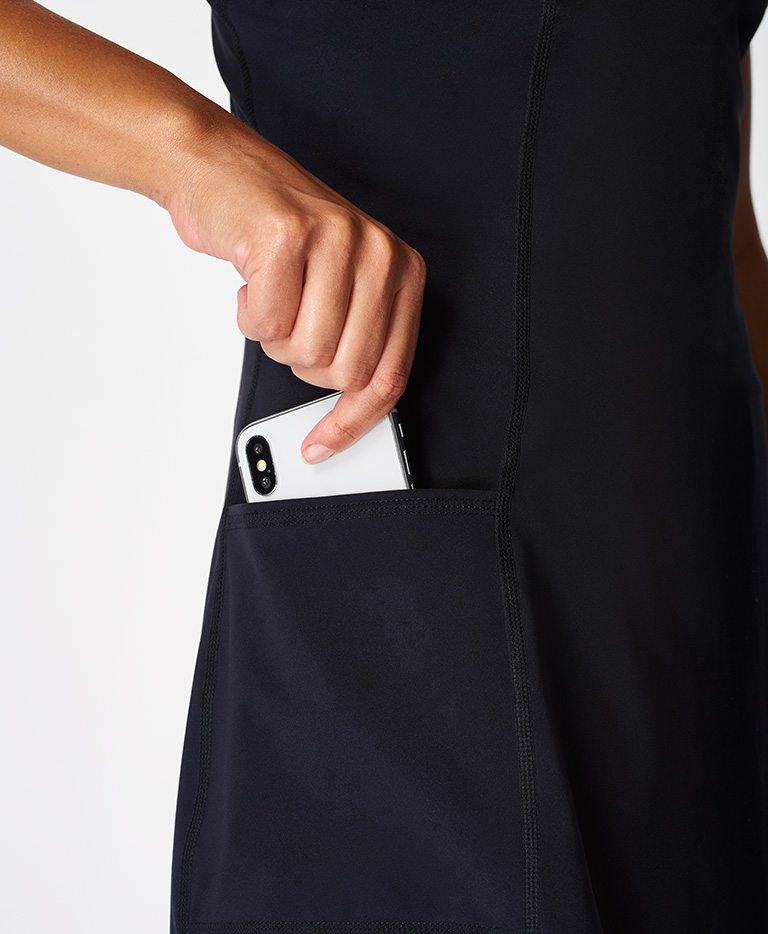 Handy Side Pocket
Fits up to an iPhone 8 or Samsung S9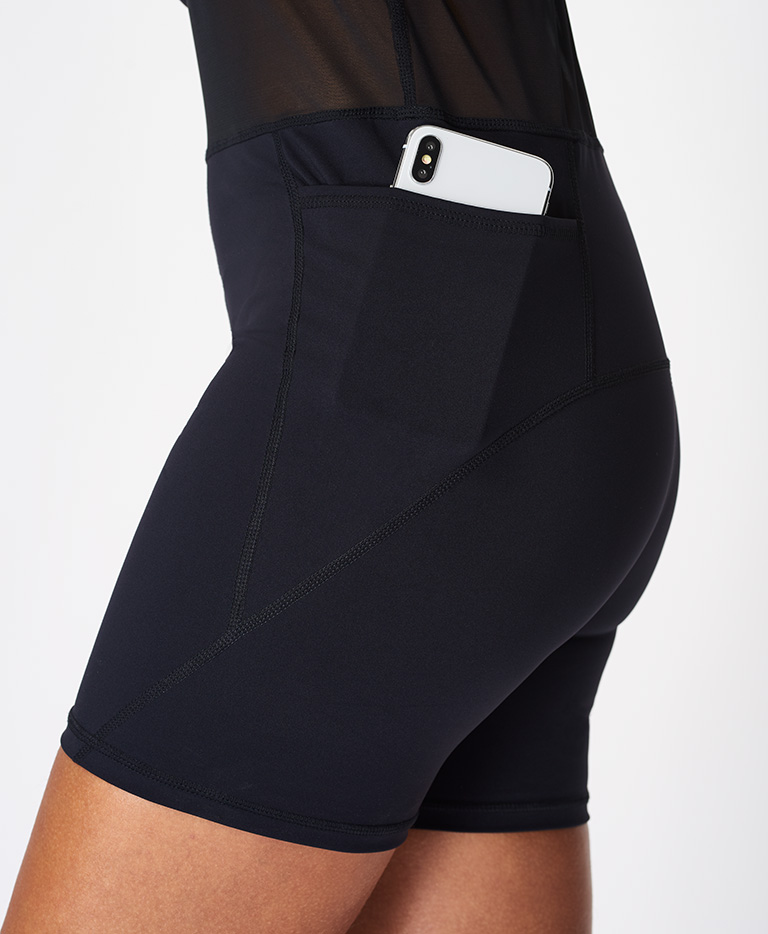 Supportive Inner Short
Ideal for any workout
<!--begin-bvseo-questions--> <!--begin-questions--> <div id="bvseo-questionsSection"> <div class="bvseo-question-answer" data-questionid="6883622"> <h2 class="bvseo-question"> Hi, Is it easy to go to the toilet by wearing this dress?&amp;nbsp; </h2> <div class="bvseo-question-detail"> </div> <div class="bvseo-author">Asked by: Hong</div> <div class="bvseo-answer" data-answerid="6238514"> The Power Workout Dress has a supportive inner short, so bear this in mind when going to the loo! <div class="bvseo-author">Answered by: TeamSB @ Oxford</div> <div class="bvseo-pubdate">Date published: 2020-09-24</div> </div> </div> <div class="bvseo-question-answer" data-questionid="6755724"> <h2 class="bvseo-question"> Does this run true to size? &amp;nbsp;I&amp;rsquo;m usually a medium but I ordered a medium in one of your skirts and it was a bit snug. &amp;nbsp;I&amp;rsquo;m 5&amp;rsquo;6&amp;rdquo; and weigh&#13;&#10;140lbs. &amp;nbsp;Very muscular. </h2> <div class="bvseo-question-detail"> </div> <div class="bvseo-author">Asked by: Rnel4boys</div> <div class="bvseo-answer" data-answerid="6158662"> The Power Dress does run true to size. A size M sounds like it would fit you and would be good for fitness / activewear. However we have some customers who have preferred to go 1 size up so it&#39;s a tad looser and more &amp;quot;easy-wearing&amp;quot; for a casual day on the town! <div class="bvseo-author">Answered by: TeamSB @ Customer Care</div> <div class="bvseo-pubdate">Date published: 2020-08-12</div> </div> </div> <div class="bvseo-question-answer" data-questionid="6755825"> <h2 class="bvseo-question"> What is the length of the power workout dress, i am typically a size 8 in your leggings and a medium in sweatshirts but have never purchased a bra or workout tank and not sure if i should go with a size m or l. </h2> <div class="bvseo-question-detail"> </div> <div class="bvseo-author">Asked by: Josie4456</div> <div class="bvseo-answer" data-answerid="6158426"> For a size small, the body length of the dress is 33.5&amp;quot; / 85cm and this length varies very slightly if you go up or down a size. If you are usually a medium in sweatshirts we would recommend going for a medium in this product <div class="bvseo-author">Answered by: TeamSB @ Customer Care</div> <div class="bvseo-pubdate">Date published: 2020-08-12</div> </div> </div> <div class="bvseo-question-answer" data-questionid="6755659"> <h2 class="bvseo-question"> Are the shorts attached to the dress? In other words, do I have to remove the entire dress in order to use the toilet? </h2> <div class="bvseo-question-detail"> </div> <div class="bvseo-author">Asked by: SwimSpinner</div> <div class="bvseo-answer" data-answerid="6158418"> The shorts are attached to the dress. To remove the shorts you would need to pull the dress down aswell <div class="bvseo-author">Answered by: TeamSB @ Customer Care</div> <div class="bvseo-pubdate">Date published: 2020-10-21</div> </div> </div> <div class="bvseo-question-answer" data-questionid="6755656"> <h2 class="bvseo-question"> Can you give measurements for the length of the inseam for each size please? </h2> <div class="bvseo-question-detail"> </div> <div class="bvseo-author">Asked by: Me in HB</div> <div class="bvseo-answer" data-answerid="6143584"> The inseam measurement for the shorts on this dress is 5 inches / 13 cm (it is the same across sizes). <div class="bvseo-author">Answered by: TeamSB @ Customer Care</div> <div class="bvseo-pubdate">Date published: 2020-08-03</div> </div> </div> <div class="bvseo-question-answer" data-questionid="6755706"> <h2 class="bvseo-question"> What is the length of this dress in small? </h2> <div class="bvseo-question-detail"> </div> <div class="bvseo-author">Asked by: Adrenaline Junkie</div> <div class="bvseo-answer" data-answerid="6143568"> The body length of the Power Workout Dress is 33.5 inches / 85cm. <div class="bvseo-author">Answered by: TeamSB @ Customer Care</div> <div class="bvseo-pubdate">Date published: 2020-08-03</div> </div> </div> <div class="bvseo-question-answer" data-questionid="6755645"> <h2 class="bvseo-question"> What is the length in a medium? </h2> <div class="bvseo-question-detail"> </div> <div class="bvseo-author">Asked by: walking mama</div> <div class="bvseo-answer" data-answerid="6143567"> The body length of the Power Workout Dress is 33.5 inches / 85cm. <div class="bvseo-author">Answered by: TeamSB @ Customer Care</div> <div class="bvseo-pubdate">Date published: 2020-08-03</div> </div> </div> <div class="bvseo-question-answer" data-questionid="6759451"> <h2 class="bvseo-question"> I was wondering about fit (size). I am a 10-12 so most of my SB gear is small with the exception of stamina bras &amp;amp; Athlete Vest &amp;amp; T-sirts which are always medium. Is the power dress fitted tight? I hate tightness on my tummy. Cheers. </h2> <div class="bvseo-question-detail"> </div> <div class="bvseo-author">Asked by: Tantastic</div> <div class="bvseo-answer" data-answerid="6158682"> Hi Tanya - if you normally size up to a M in your Athlete tops and Stamina Bras, you might like a size M in this dress as well, depending on how you want it to fit. The S will probably be a slightly more snug fit, well suited for working out in the dress, and the M will likely be just a bit looser, so could also be worn for a day out on the town. Hope you enjoy the dress! <div class="bvseo-author">Answered by: TeamSB @ Customer Care</div> <div class="bvseo-pubdate">Date published: 2020-08-12</div> </div> </div> </div> <script type="text/javascript"> if (document.getElementById('bvseo-questionsSection')) { document.getElementById('bvseo-questionsSection').style.display = 'none'; } </script> <!--end-questions--> <ul id="BVSEO_meta" style="display:none!important"> <li data-bvseo="bvDateModified">y_2022, m_12, d_1, h_21CST</li> <li data-bvseo="ps">bvseo_bulk, prod_bvqa, vn_bulk_3.0.34</li> <li data-bvseo="cp">cp_1, bvpage1</li> <li data-bvseo="co">co_hasquestionsanswers, tq_8</li> <li data-bvseo="cf">loc_en_US, sid_SB5683_Black, prod, sort_[SortEntry(order=NUM_ANSWERS, direction=DESCENDING)]</li> <li data-bvseo="diagnostics">clientName_sweatybetty</li> </ul> <!--end-bvseo-questions--> <ul id="BVSEOSDK_meta" style="display: none !important;"> <li data-bvseo="sdk">bvseo_sdk, dw_cartridge, 18.2.0, p_sdk_3.2.0</li> <li data-bvseo="sp_mt">CLOUD, getContent, 141ms</li> <li data-bvseo="ct_st">questions, product</li> </ul>