Mission Performance Waterproof Jacket
Details
https://www.sweatybetty.com/shop/tops/coats-and-jackets/mission-performance-waterproof-jacket-SB5875_Black.html
Free standard delivery on all orders + free returns. Learn more
All new waterproof jacket designed for running and cycling. Fully seam sealed 3 layer fabric is waterproof and breathable. Relaxed fit with cinched in waist . Reflective details for visibility and packaway hood. Zip off sleeves to 3/4 length. Length 70 cm / 27.5" from shoulder. Model wears size S and is 178cm/5'10" tall. Style Code: SB5875Colour: Black
Features
All new waterproof jacket designed for running and cycling.
Fully seam sealed 3 layer fabric is waterproof and breathable.
Relaxed fit with cinched in waist .
Reflective details for visibility and packaway hood.
Zip off sleeves to 3/4 length.
Length 70 cm / 27.5" from shoulder.
Model wears size S and is 178cm/5'10" tall.
Style Code: SB5875
Colour: Black
Fabric
Composition: 100% Polyester
Care
Wash at 40°C (104°F) on reduced spin. Do not bleach. Do not dry clean. See care label for additional information.
Rated

5

out of

5
by
Natrose
from
Way better then expected
This jacket is a must! I wasn't to sure at first but boy, I'm glad I got it. Different from many other rain coats out there. Very fashionable and versatile. Loving the oversized fit. I'm usually 12/14 and I got a M and there's enough room for layering.
Date published: 2021-09-30
Rated

5

out of

5
by
HP2064
from
Excellent
I love this jacket. It has been raining a lot on the East coast and this jacket has been a staple. I don't use an umbrella or any other jacket. Please make a version in a bright color for the gloomy Autumnal weather.
Date published: 2021-09-17
Rated

5

out of

5
by
Rocket runner
from
Flattering fit and good size
It is a flattering style and I was debating between XL and L chose L.. Loads of room. So, a generous size. I like that the hood can be tucked away. Adjustable waist ties and sleeve pocket for phone.
Date published: 2021-09-16
Rated

5

out of

5
by
Anonymous
from
Whatever the weather
I love this jacket. It looks great on, I love the sleeves, I can't stand tight arms on jackets so it works well for me. Stylish and have had great comments
Date published: 2021-08-28
Rated

5

out of

5
by
Wasf
from
THE BEST JACKET EVER!
I have fallen in love with this jacket. Its totally water proof, the pockets are super handy and the waist is super flattering. I wore this to a festival and didn't want to take it off!
Date published: 2021-08-26
Rated

5

out of

5
by
Julesagain
from
Funky & functional
Funky & functional, drawstring waist is flattering too.
Date published: 2021-08-11
Rated

5

out of

5
by
Caz B
from
Fab jacket that actually is waterproof
Great jacket , light weight and waterproof , perfect for dog walking. Loads of compliments on colour and style. Very pleased. True to size . Definitely recommend
Date published: 2021-07-03
Rated

5

out of

5
by
SWA Pilates & Barre
from
Love this jacket!
The most gorgeous Rainjacket. Waterproof, flattering shape and different. Already tested on a torrential dog walk and it kept me perfectly dry. Love that it covers the bum and has voluminous sleeves. Well done SB!
Date published: 2021-06-05
Rated

4

out of

5
by
Anonymous
from
Waterproof jacket with a twist
The sleeves on this jacket makes it a little different from a standard black waterproof jacket. However , the fit is rather generous and the sleeves rather long. It is generous enough for layering underneath and the gathered waist gives it a great shape.
Date published: 2021-06-05
Rated

5

out of

5
by
Lisa71
from
Proved super useful
I really wasn't sure about the jacket having read reviews BUT - is nice and light when walking / or having to carry - super stylish (I love the sleeves) - great length (bottom skimming for me) - totally waterproof I like exercise clothes baggy - so wear an XL although a size 14 usually
Date published: 2021-06-04
Rated

5

out of

5
by
Cezzz22
from
Comfortable and covers bum so even comfier
I decided to buy this jacket as i have just got into running and wanted something runnable with. Im slightly obsessed with wearing this jacket its lovely and my friend has complemented many times saying how nice it is and that looks good on me and that she fancies one herself. Its rather pricey but sometimes worth spending more as get quality and if it last while thats great too!.
Date published: 2021-05-30
Rated

4

out of

5
by
Mazy
from
Promising jacket - with balloon sleeves
Lovely soft, lightweight jacket. Practical bum covering and flattering length, I thought this could be the jacket I've been searching for. However, the sleeves ruined it for me - not practical or flattering! Sad to return in and unable to comment on its waterproof and wind proof qualities
Date published: 2021-05-21
Rated

5

out of

5
by
Loux
from
A must have
Love love love this jacket. The style of it is great it is really good quality. I wear it all the time and is great over s gym top of a jumper too.
Date published: 2021-05-12
Rated

5

out of

5
by
Landers
from
Brilliant jacket ( if a little pricey)
I thought long and hard about buying this jacket, but glad I did .It is comfortable , stylish and has had lots of positive feedback from walking friends .The larger sleeves set it apart -I love this design feature , as it looks anything but a "standard" rain jacket .The price reduction for first time buyer was welcome and I will certainly buy again from this range .
Date published: 2021-05-03
Rated

5

out of

5
by
Leena E
from
My lovely coat
I am so happy with this stylish coat. It is lightweight, water-and windproof and just the right length. I love the puffy sleaves, too. The best wear for my long walks in the woods. It is smart enough for city walks as well!
Date published: 2021-04-27
Rated

5

out of

5
by
AMcN
from
Great jacket
I live in the north west of Ireland so need a good rain jacket. Wore this out straight away in the pouring rain and it kept me dry as a bone. I didn't feel as sweaty as I would usually under a rain jacket either. I love that it cinches in at the waist, having tops flopping around on a run isn't comfortable, and it gives you a lovely shape! All in all a lovely jacket, would definitely recommend.
Date published: 2021-04-17
Rated

5

out of

5
by
JaniB
from
Just love it
Exactly what I wanted, I saw other reviews saying the sleeves are too big but tbh that's part of why it's so nice! Buy elsewhere if you just want 'another' black rain jacket! I sized up as I wanted to wear a hoodie in the colder weather
Date published: 2021-04-15
Rated

4

out of

5
by
RooM
from
A good buy. Great colour and waterproof.
Really unique colour and style. Regular fitting body. AND it's waterproof - a real bonus. A bit on pricey side though.
Date published: 2021-04-02
Rated

5

out of

5
by
LaurenPrice
from
Amazing !!
I bought this jacket for road running, i have worn it a number of times and it is both waterproof and lightweight and has really helped me run in wet weather conditions:)
Date published: 2021-03-27
Rated

3

out of

5
by
Lola Locket
from
Perfect but the sleeves. Woah. What happened.
I wanted a waterproof jacket as shower proof doesn't cut it on a long wet run. Jacket style perfect but the massive sleeves made me look like a firemen. Far too wide. Sent straight back so the search continues.
Date published: 2021-03-22
Rated

4

out of

5
by
KP47
from
Waterproof, breathable, stylish but the sleeves??
Have had awful weather since getting this jacket. Loads of wind and rain. The jacket is brilliant and definitely waterproof and very breathable. Today I did a fast run for 60 mins in the rain and 10 degrees. I'd normally be too hot in a jacket but it was great. The sleeves drive me mad though. There is too much material and we've also had lots of wind and I can feel the drag when I'm running. I have to stretch them down over my hands to try make them less baggy and easier to run. Otherwise it looks great but I was actually wondering today could a seamstress change the sleeves for me.
Date published: 2021-02-24
Rated

5

out of

5
by
Lis53
from
Such a great jacket
This is wonderful: so comfortable for running, completely wind and waterproof, stylish so good for long walks too. My favourite cold weather jacket.
Date published: 2021-02-12
Rated

5

out of

5
by
tattysamp
from
Love the sleeve
I didn't need another coat, but I loved the sleeve detail & plum colour. Also, have been looking for a waterproof lightweight coat to run/walk in. I can say that it is waterproof having walked in the driving rain for 2 hours today. Except the water got in where the eyelets are for the waist cord but it was drier than my friends new Berghaus gortex coat. She was very surprised. Im only 5ft2 & larger on the top, but its really flattering. Im an xxs on the bottom & a M on the top in sweaty better!. Ive worn it with a fur collar Gillet underneath & it looks great with the extra glam
Date published: 2021-01-29
Rated

4

out of

5
by
RachieW
from
I really want to know what the sleeves are so wide
Everything is great about this jacket, the materials the style, apart from the ridiculously wide sleeve. You can't cycle in it abs running on the fell with a pair of wings is just silly. I would love to know what's the thinking behind that wide sleeves please?
Date published: 2021-01-26
Rated

4

out of

5
by
SB topfan
from
The jacket I have been waiting for!
I was so pleased when SB brought out a waterproof jacket again This jacket is stylish; is a good length; the elasticated cuffs are great for pulling over gloves in the rain and it is waterproof . I have walked 2-3 hours in pouring rain and it stood the test. However with a couple of slight improvements to design it would be excellent: 1. The hood doesn't have a neb which would be very useful in driving sleet/rain 2, The pockets are difficult to unzip as the zip pull is very small I haven't yet tried it on the bike but suspect the sleeves would billow out in the wind . Suggest to size down if you don't like your jackets too baggy. I bought XS and am size 8/10 and 5.5 tall . The small was too big.
Date published: 2021-01-24
Rated

5

out of

5
by
Helenbak
from
Fab waterproof, windproof & breathable jacket!
Love this jacket! I've been looking for a new fully waterproof running jacket for some time now. Many pn the market are only water repellent or shower proof. Often fully waterproof designs I have found were also designed for super cold weather and were too warm. This jacket however is perfect. A great weight - and room enough for layering on a super cold day, or just a light vest underneath with the sleeves zipped off for the warmer days. Love the zipped off sleeves - I feel like a warrior...in a good way! Love the cinched in waist and so love the blouson sleeves they make the jacket so much more stylish and interesting. They don't get in the way at all when you run, even with high winds. The fabric isn't noisy either, important note. I definitely felt protected from the wind and can vouch that the jacket is totally waterproof. I'm a uk size 10 and bought the small. Perfect fit - especially as you can cinch the waist too - to vary the styling. I did try the XS but felt the sleeves looked a little short - and the shape works really well with a little more volume. I would say the only thing that could be improved would be a back pocket for an iPhone - or perhaps a smaller key pocket within the zip side pockets. An iPhone fits with ease into the zipped side pockets however so this really is a minor point. In summary a super stylish AND practical jacket in gorgeous substantial fabric - well done SB - this is EXACTLY what I have been looking for.
Date published: 2021-01-19
Rated

5

out of

5
by
Ct2483
from
stylish and functional
So hard to find a waterproof mac type jacket that doesn't look like a frumpy mum, until i found this one..! First thing that drew me was the balloon sleeves, roomy enough to wear a couple of layers without it feeling tight or bulking up especially when you're facing the elements. I'm not much of a colour wearer but this maroon shade is just so nice. Love that you can cinch in the waist. The zip off sleeves are such a great idea too
Date published: 2021-01-18
Rated

4

out of

5
by
Laurabrown82
from
Almost nails it for cycling, still good!
I've been looking for a stylish and function jacket for cycling for AGES. If you're blessed with a whiff of an hourglass figure then good luck finding cycling gear. In a world that's made for lanky 6ft men it's almost impossible if you've got hips and a bum! I cycle every day, around about 15 miles. I wanted something that covers my bum, keeps me warm and dry and doesn't look hideous. It's wind proof so it keeps you warm and keeps the chill out. So big tick. It's waterproof too, so will keep your top half dry. The sleeves could be a bit longer for a cycling position so I'd advise to wear a long sleeve running top with thumb holes underneath. Also I'm not sure why the sleeves are quite so baggy, I feel like I've got my dads jacket on. But it's a minor thing. There's room underneath to layer, I ordered my usual size 16 and layered it with a merino wool base layer and a running top. The zips on the pocket are teeny tiny and so fiddly. Really could have done with a fabric pull instead. It's almost impossible to grip them with gloves on. I'll probably take them off and put a strong cord on it instead. The pockets are a little far back but it's only a minor nuisance. Would have liked the back to be a teeny bit longer to factor in a cycling posture but it's not too bad, I also have bum and hips so might be better if I was smaller there, for running and walking it will be perfect. From a technical point of view the fabric is great and it's got visibility strips and will keep you warm and dry. Some teeny tiny tweaks and this would have been an absolute winner. It's still a fantastic jacket. I'd love if SB did more clothing aimed at female cyclists because I really do feel that it's a massively male dominated sport and no one really thinks about the female shape, it's almost impossible to find stylish wear that's not plastered with team or race names in garish colours! Please SB!
Date published: 2021-01-15
Rated

4

out of

5
by
Glasweegie
from
Sadly not for me
First of all, the material is fab, thick and soft, and I loved the shape of the body - you can draw in the waist to create shape. Unfortunately for me the arms looked absolutely ridiculous - they are super wide and puffy and bulky where the zip is, and as I'm petite they were just overwhelming. The reflective strips were also a bit "emergency worker"! Very reluctantly returning.
Date published: 2021-01-13
Rated

5

out of

5
by
JKLCB42
from
Gorgeous Stylish Waterproof Jacket
I was after a stylish, lightweight waterproof jacket and this fits the bill. I adore the sleeves and toggles that allow you to cinch the waist in. Just gorgeous. Love it! #IAMASWEATYBETTY
Date published: 2021-01-12
bvseo_sdk, dw_cartridge, 18.2.0, p_sdk_3.2.0
CLOUD, getReviews, 6ms
reviews, product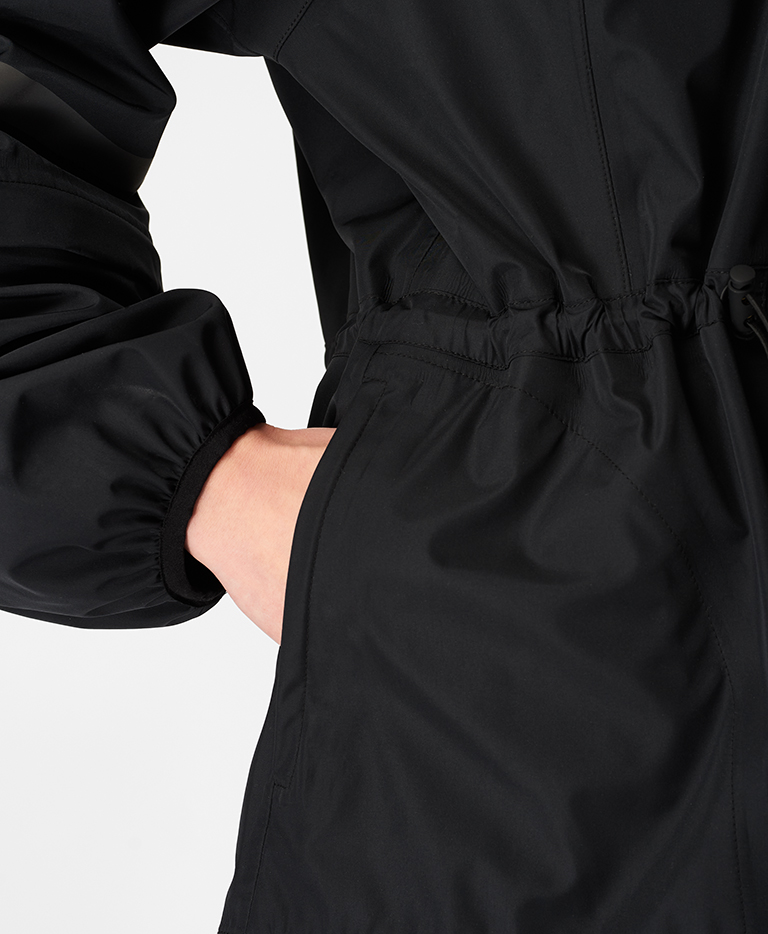 Handy Side Pocket
Fits up to an iPhone 11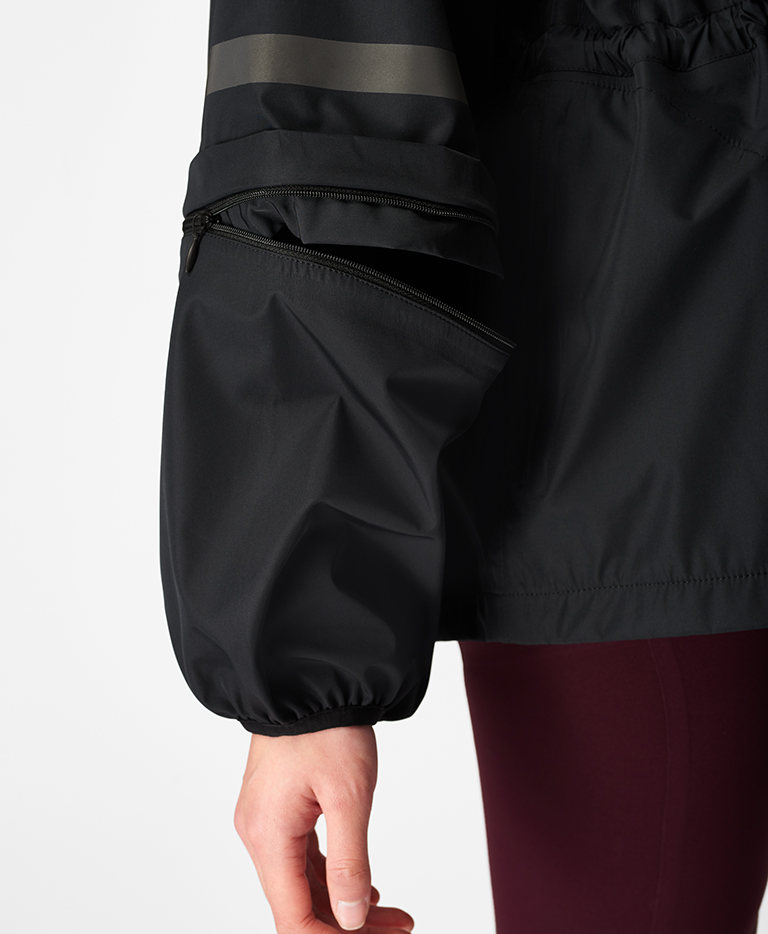 Zip Off Sleeves
To 3/4 length
<ul id="BVSEOSDK_meta" style="display: none !important;"> <li data-bvseo="sdk">bvseo_sdk, dw_cartridge, 18.2.0, p_sdk_3.2.0</li> <li data-bvseo="sp_mt">CLOUD, getContent, 5ms</li> <li data-bvseo="ct_st">questions, product</li> <li data-bvseo="ms">bvseo-msg: Unsuccessful GET. status = 'ERROR', msg = 'Not Found.';</li> </ul>