Power Reflective Gym Leggings
Details
https://www.sweatybetty.com/shop/bottoms/leggings/power-reflective-gym-leggings--SB5400R_GreyReflectiveGeoPrint_FullLength.html
Free standard delivery on all orders + free returns. Learn more
Multi-sport gym leggings designed for every workout. Super stretchy fabric with flattering seams to sculpt the bum. Sweat-wicking and quick-drying for all sports. Side pocket and back zip pocket. Inseam length: 27" / 68cm. Model wears size S and is 178cm/5'10" tall. Style Code: SB5400RColour: Grey Reflective Geo Print
Features
Multi-sport gym leggings designed for every workout.
Super stretchy fabric with flattering seams to sculpt the bum.
Sweat-wicking and quick-drying for all sports.
Side pocket and back zip pocket.
Inseam length: 27" / 68cm.
Model wears size S and is 178cm/5'10" tall.
Style Code: SB5400R
Colour: Grey Reflective Geo Print
Fabric
Composition: 62% Polyamide, 38% Elastane
Care
Wash at 40°C (104°F) on reduced spin. Do not bleach. Do not dry clean. See care label for additional information.
Rated

2

out of

5
by
Erica22
from
Reflective leggings
I bought these leggings for running at night. I have other power leggings in the same size that I love but these don't sit in the same way, they have a shorter crotch area and fall down when I run. The material is also very different from my other power leggings, these are much stiffer. I would love to return them but I've already worn them running.
Date published: 2021-12-11
Rated

3

out of

5
by
Anonymous
from
Great initially but reflectivity wears off
These are great leggings (so good that I bought a second pair) but the reflectivity which was the major selling point for me wears off disappointingly quickly. I'm a daily runner and at this time of year lost of my running is done in the dark so good reflective gear is important to me. The photos attached show how the new, unwashed pair of leggings compare to the pair I bought in October and have worn and washed a couple of times a week since then (always following the washing instructions). For the price I really would have expected a lot more sticking power.
Date published: 2021-12-08
Rated

5

out of

5
by
@optimumpt
from
Warm, reflective with good fit
I bought these for winter evening dog walks. Don't think they are thermal, but got them for the reflection. They are very reflective, in fact almost white when light shines on them from my LED torch or LED car lights. I am 5'1 and the 7/8 fits perfectly. I have thunder thighs and the large comfortably fits. I don't feel restricted on my legs. I don't like super tight fits.
Date published: 2021-12-04
Rated

2

out of

5
by
LynneF
from
They're not reflective!!
I bought these leggings specifically as I wanted to wear them at night running or on my bike, and they are not reflective. Not at all. So very disappointing.
Date published: 2021-11-30
Rated

5

out of

5
by
DL61
from
Just brilliant!
Bought these leggings for winter running . They are probably the most comfortable leggings I've ever had and the reflection is brilliant. Would definitely recommend to anyone who runs through the winter months. Be seen, be safe!
Date published: 2021-11-28
Rated

5

out of

5
by
Hb078
from
These leggings are HOT!! Love love love
Wow - these are beautiful leggings. The HB edition are dark black with a beautiful reflective pattern. Went running last night and I was super reflective which made me feel very safe! Please note- the HB edition does come up small. I have the hexagonal reflective as well and there was a definite difference in size. Recommend!!!
Date published: 2021-11-16
Rated

5

out of

5
by
MacL
from
Flattering and warm!
Great reflective leggings, the geometric design is awesome and they are nice and warm for autumn walks, and being reflective great for commuting back from work in the evening. Like all powers they are really flattering. They look great with the alpine blue athlete vest and the blue pacesetter for class also! #teamsweatybetty
Date published: 2021-11-13
Rated

5

out of

5
by
HP2064
from
HP2064
Love these reflective leggings. I have been mainly using them for commuting to work. They look great and stay on. I got the XS and it fits well.
Date published: 2021-11-10
Rated

5

out of

5
by
Big Bird
from
Excellently reflective!
My (now dark) homeward cycle commute is mostly along unlit roads. These leggings are super visible. I'm an 18 in trousers and the XXL fit really well, even over cycling pants (I could probably have fitted in the XL and still been able to breathe). The 7/8 are long enough to tuck neatly into my spangly socks (I'm 5'6"). They are very comfy, no rubbing after an hour on the road, and dry in no time after laundering. Marginally warmer than ordinary leggings, quite adequate for a light frost. I'm extemely pleased with them!
Date published: 2021-11-08
Rated

4

out of

5
by
IamKat
from
Lovely leggings but size up!
I'm a massive powers fan, and was super excited when these were released. I found that the Halle Berry reflective print comes up small - I'm usually an XS in powers but I had to order a S as they were just too small and I felt they didn't have much stretch or give. Haven't worn them outside yet, but they seem pretty reflective when I've tried them on inside in the dark!
Date published: 2021-11-03
Rated

1

out of

5
by
Maggie87
from
Not actually reflective
Will be sending these back as while they look nice, the print is not reflective at all! I'm so glad I checked with a torch before heading out! Total waste of money as they are not really fit for purpose. Please be careful if you purchase these for nighttime running!
Date published: 2021-10-27
Rated

5

out of

5
by
Maria Bernadetta
from
Comfortable, safe and flattering
Not hyper-reflective, not super-warm, but still my favourite leggings. I sized up compared with my Italian fleece pants and the fit is great.
Date published: 2021-10-18
Rated

5

out of

5
by
AmandaCann
from
Love love love
I bought these for two reasons a) to workout in and b) to ride me horse in, the fact that they are reflective keeps me safer on the roads. Sweaty Betty, please consider an Equestrian Legging.
Date published: 2021-09-09
Rated

2

out of

5
by
JustHB
from
Poor quality - stitching coming loose
These looked amazing out of the package, but after the first wash they started to age. After only a few months, the stitching is coming loose in two places and the reflective paint started to crack and fade after the first wash. Disappointed in the quality on these, especially compared to the other SB items I have.
Date published: 2021-06-07
Rated

5

out of

5
by
AusSteph
from
Outrageously great leggings
True fit. Stunning subtle geometric pattern. Fabric is awesome with a bit of give. 100% squat proof. Please do more in this type of subtle geometric design - just awesome
Date published: 2021-04-19
Rated

5

out of

5
by
jujodudo
from
Awesome Fabric
There is something very special about the fabric of these leggings. I wore these for 2 different hikes in Utah. There were times when my legs brushed up against branches and not once did these leggings snag.
Date published: 2021-04-05
Rated

2

out of

5
by
LMF1
from
Not reflective - really disappointed!
I got these to go running in the dark and when I'm riding my bike in the evening - I got them because I wanted them to be reflective, and they are not at all. The paint (or whatever it is) doesn't work so they are just leggings really, nice leggings, but not in any way reflective or matching the description of what they are supposed to do.
Date published: 2021-02-24
Rated

1

out of

5
by
Helenc23
from
So disappointing!
My first pair of Sweaty Betty leggings and most likely my last. Not reflective AT ALL. Even held under a light, nothing changes. In a camera flash, nothing! An expensive piece of defective kit. Pro- viz a much better option if you want to stay safe!
Date published: 2021-02-06
Rated

5

out of

5
by
Greatatfifty
from
My first SB leggings
And I'm not disappointed! Bought them for the reflective element for early runs and after work walks during the winter months and it really works! Bought S which fits perfectly (I'm a size 10 and buy the Gary pants in S as well). No chaffing, very comfortable. The phone pocket works very well for an iPhone Max. All in all very happy with this purchase!
Date published: 2021-02-05
Rated

5

out of

5
by
Tracy_G
from
Great reflective properties
I purchased these leggings for running in the evenings to keep me safe. The reflective properties are great and they've been washed quite a few times now as per instructions and seem great. I bought the small ( this is my first set of leggings from Sweaty Betty) I'm 173cm tall and a size 8-10. They fit fine but I think that I would have liked to have ordered the xs for a comparison. They are not as tight fitting as the reviews I read pre-purchase suggested. The only thing I thought though was that the reflective part is printed onto the fabric and I wonder if it is overly stretched through wear if this might deteriorate. Also of note for any winter runners is that the material is quite thin so not the warmest for frosty outings.
Date published: 2021-02-05
Rated

5

out of

5
by
Belensalcedo
from
XXI size 113 pound 5.2
Excellent material and I received good complements
Date published: 2021-01-20
Rated

5

out of

5
by
HarrietP
from
My new favourite leggings!
I love power leggings & got these because of the reflective pattern. I am SO impressed, perfect for the morning runs& look amazing on!
Date published: 2021-01-16
Rated

1

out of

5
by
JA2021
from
Reflective Gym Leggings
These were in my wish list and I was so happy to receive these as a Christmas present, however I am not sure if I have a faulty pair but these are no way as shown within low light photos or influencer review posts. I love Sweaty Betty products but these do not perform or function as the low level images shown online and I would not recommend.
Date published: 2021-01-02
Rated

5

out of

5
by
nicnicnicy
from
Love!
Gorgeous fit, they're very flattering and look so unique.
Date published: 2020-12-24
Rated

5

out of

5
by
capro
from
Worth it
These are great. Really reflective in the dark when light shines on them - I was so impressed I bought a second pair so I can feel safer running and cycling and even walking in low light areas around traffic. Both fit and feel the same with the same reflective finish, and the sizing is same as my other Powers. Highly recommend.
Date published: 2020-12-21
Rated

5

out of

5
by
OregonRunMom
from
Love these!
Thanks to the reflectivity of these tights, I don't have to cut my run short if the sun is setting! The tights are really comfortable, too. I tried a medium first, which is what I wear in Nike tights, but returned them for a Small and they fit great. And they're incredibly flattering, too! I've gone on long runs in these and there is no issues with seams rubbing/chafing. They do fall down a bit, but honestly I haven't found a brand that doesn't when you're carrying a phone in the side pocket! I do wish the drawstring was separated so I could tie it in a bow, instead of the continuous piece that it is, but that's because sometimes I have trouble untying this one when my hands are cold — still trying to get the hang of that! I also wish they were just a tad warmer for cold days, but that's not a deal breaker for me. Will buy the Power Tight in other prints/colors, for sure. Also, the customer service when I had to return the mediums, was great. Mailing the leggings always super fast, too, but I got in before the holiday rush, too. Pandemic shipping has taken longer for all orders I've made online, but the shipping company that Sweaty Betty uses was prompt and sent updates all the time.
Date published: 2020-12-17
Rated

3

out of

5
by
Shevy
from
Undecided
Until these reflective Powers id o lay ever gone for the Super Sculpt, so I can only compare to those. I got these for the dark nights and early mornings to stay a little safe, hence the change in type. In comparison they feel very baggy and not as firm. The power leggings however do not claim to be this. They are comfy, but I would go for a size smaller if I was to buy again. they make me feel a bit sloppy. Good for the glow though, however I will stick to the Sculpts from now on, how about some reflection print for those?
Date published: 2020-12-16
Rated

5

out of

5
by
Charlie95
from
Great for early morning runs!
Power leggings are by far my favourite leggings and when I saw these I couldn't not get them! They are perfect for early morning runs in the dark. These leggings have all the features of the power leggings with the added benefit of reflectivity! I definitely feel safer running in the dark knowing I will be seen! #teamsweatybetty
Date published: 2020-12-11
Rated

4

out of

5
by
Bex P
from
It would have been 5* but.......
These are superb for early morning and evening runs in late Autumn and Winter. So much so I bought 2 pairs! The first felt a different fit to all my other Power leggings, a bit tighter, stiffer fabric and harder to get over my feet. I assumed it must be to do with the fabric used for the reflective print to adhere, so accepted it. But today I have worn the second pair which arrived yesterday and these fit exactly like all my other Power leggings and the fabric feels the same and they go over my feet easily. Despite this I recommend these and would buy again.
Date published: 2020-12-02
Rated

1

out of

5
by
Chammy
from
Not Reflective
My first Sweaty Betty purchase purely for the reflective aspect and I'm thoroughly disappointed. They fit well and feel nice but so do plenty of other running leggings (at a snip of the price)! Maybe I've received a pair from a faulty batch? If the reflective quality worked as per the photographs implied, I would have given these 5 stars and ordered another couple of pairs. Such a great shame.
Date published: 2020-12-01
bvseo_sdk, dw_cartridge, 18.2.0, p_sdk_3.2.0
CLOUD, getReviews, 6ms
reviews, product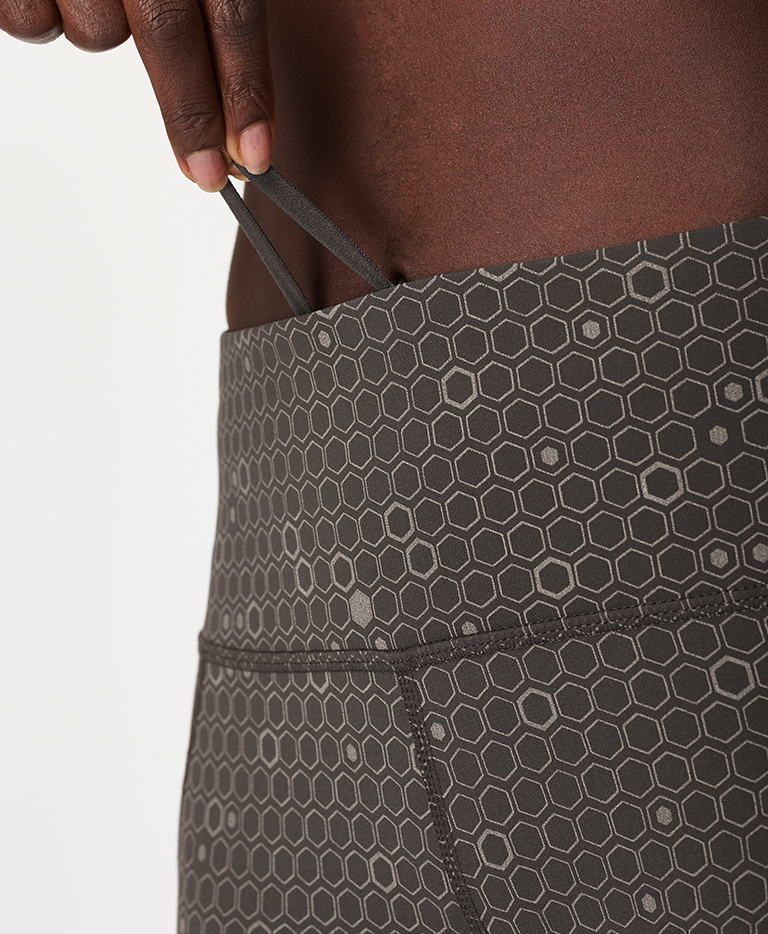 Adjustable Drawcord
Ensures the perfect fit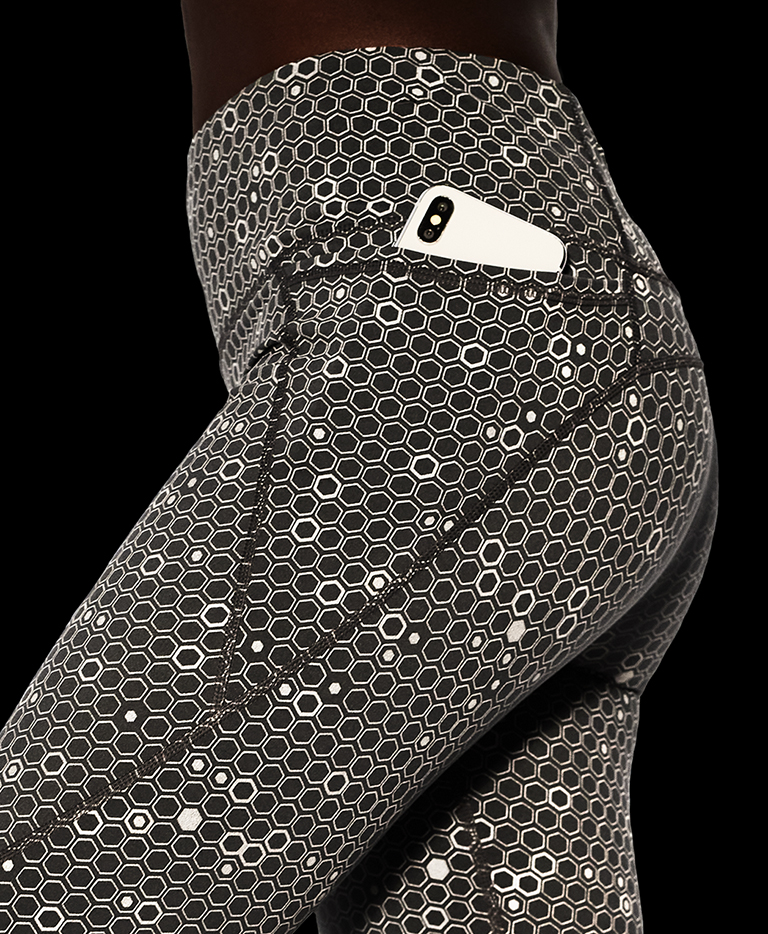 Handy side and zip pocket
Reflective print for visibility in the dark
<!--begin-bvseo-questions--> <!--begin-questions--> <div id="bvseo-questionsSection"> <div class="bvseo-question-answer" data-questionid="6978616"> <h2 class="bvseo-question"> are these made out of the zero gravity material </h2> <div class="bvseo-question-detail"> </div> <div class="bvseo-author">Asked by: Anonymous</div> <div class="bvseo-answer" data-answerid="6345387"> The Power Workout Leggings have a very similar fit to the Zero Gravity Leggings, however, are composed with a thicker, more opaque fabric. <div class="bvseo-author">Answered by: TeamSB @ Oxford</div> <div class="bvseo-pubdate">Date published: 2020-11-11</div> </div> </div> <div class="bvseo-question-answer" data-questionid="6957757"> <h2 class="bvseo-question"> Are these good for below 30 degrees Fahrenheit? </h2> <div class="bvseo-question-detail"> </div> <div class="bvseo-author">Asked by: Twentysixpointtwo</div> <div class="bvseo-answer" data-answerid="6301597"> You might be a little chilly in the Power Reflective Workout Leggings in temperatures below 30 degrees Fahrenheit. Instead we would recommend the Thermodynamic Leggings which are fleece lined and lovely and cosy for colder months! <div class="bvseo-author">Answered by: TeamSB @ Oxford</div> <div class="bvseo-pubdate">Date published: 2020-10-24</div> </div> </div> <div class="bvseo-question-answer" data-questionid="6956815"> <h2 class="bvseo-question"> Between sizes on the leggings-is it better to go up or down? Looking at the reflective ones if that matters </h2> <div class="bvseo-question-detail"> </div> <div class="bvseo-author">Asked by: Hello from Ohio</div> <div class="bvseo-answer" data-answerid="6300261"> If you&#39;re between sizes, we would recommend going for the smaller size in the Power Reflective 7/8 Workout Leggings. We would also say the waist measurement is the most important factor when determining what size to go for, so please do double check these measurements in our size guide:&#13;&#10;https://www.sweatybetty.com/us/global-size-guide.html <div class="bvseo-author">Answered by: TeamSB @ Oxford</div> <div class="bvseo-pubdate">Date published: 2020-10-23</div> </div> </div> <div class="bvseo-question-answer" data-questionid="6955261"> <h2 class="bvseo-question"> I normally wear a small petite in most leggings. You don&#39;t sell petite would I wear a small or x small in you leggings </h2> <div class="bvseo-question-detail"> </div> <div class="bvseo-author">Asked by: Grezsky</div> <div class="bvseo-answer" data-answerid="6299883"> The 7/8 length is our equivalent of a petite length option. We would recommend checking the waist measurements on our size guide to determine whether you should go for an XS or a S:&#13;&#10;https://www.sweatybetty.com/global-size-guide.html <div class="bvseo-author">Answered by: TeamSB @ Oxford</div> <div class="bvseo-pubdate">Date published: 2020-10-23</div> </div> </div> <div class="bvseo-question-answer" data-questionid="6938737"> <h2 class="bvseo-question"> Can this be included in the Fit Kit bundle? </h2> <div class="bvseo-question-detail"> </div> <div class="bvseo-author">Asked by: MannyHK</div> <div class="bvseo-answer" data-answerid="6282655"> Our Reflective Power Zip Through Jacket and Reflective Power Leggings are not included in the Fit Kit bundle, due to their additional technical features and higher price point. <div class="bvseo-author">Answered by: TeamSB @ Customer Care</div> <div class="bvseo-pubdate">Date published: 2020-10-16</div> </div> </div> <div class="bvseo-question-answer" data-questionid="6995900"> <h2 class="bvseo-question"> I am so confused about sizing. I measured as per the size guide and I am 75cm waist (which would make me size Medium) and 85cm around the hips (which makes me XXS). Which ones should I order? In clothing I&#39;m an 8 but in DHB leggings I get a 10. Help pls! </h2> <div class="bvseo-question-detail"> </div> <div class="bvseo-author">Asked by: Confusedrunner</div> <div class="bvseo-answer" data-answerid="6436666"> We would always recommend adhering to your waist measurement when determining what size to go for in our leggings. Make sure you are measuring your waist at it&#39;s smallest point (usually just above the belly button). If the measurements you have given are correct, we would recommend going for a size S. <div class="bvseo-author">Answered by: TeamSB @ Oxford</div> <div class="bvseo-pubdate">Date published: 2020-12-19</div> </div> </div> <div class="bvseo-question-answer" data-questionid="6986994"> <h2 class="bvseo-question"> I&#39;m size 10 and 5foot 5 , what size and length would you recommend. </h2> <div class="bvseo-question-detail"> </div> <div class="bvseo-author">Asked by: Anonymous</div> <div class="bvseo-answer" data-answerid="6344997"> We would recommend going for a size S in a 7/8 length in the Power Workout Leggings for your sizing. <div class="bvseo-author">Answered by: TeamSB @ Oxford</div> <div class="bvseo-pubdate">Date published: 2020-11-11</div> </div> </div> <div class="bvseo-question-answer" data-questionid="6994535"> <h2 class="bvseo-question"> Wouldn&amp;rsquo;t the reflective leggings be better used for winter running tights rather than gym work? </h2> <div class="bvseo-question-detail"> </div> <div class="bvseo-author">Asked by: Anonymous</div> <div class="bvseo-answer" data-answerid="6344101"> You can use these for either as the power is great for any activity! It is especially great for evening walks or runs. <div class="bvseo-author">Answered by: Camilla Carnaby</div> <div class="bvseo-pubdate">Date published: 2020-11-11</div> </div> </div> </div> <script type="text/javascript"> if (document.getElementById('bvseo-questionsSection')) { document.getElementById('bvseo-questionsSection').style.display = 'none'; } </script> <!--end-questions--> <!--begin-pagination--> <ul id="bvseo-paginationSection"> <li class="bvseo-paginationItem"><a class="bvseo-paginationLink" href="https://www.sweatybetty.com/shop/bottoms/leggings/power-reflective-gym-leggings--SB5400R_GreyReflectiveGeoPrint_FullLength.html?geCountry=US&geCurrency=USD&bvstate=pg:2/ct:q">Power Reflective Gym Legging Questions - page 2</a></li> </ul> <!--end-pagination--> <ul id="BVSEO_meta" style="display:none!important"> <li data-bvseo="bvDateModified">y_2022, m_7, d_2, h_21CST</li> <li data-bvseo="ps">bvseo_bulk, prod_bvqa, vn_bulk_3.0.32</li> <li data-bvseo="cp">cp_1, bvpage1</li> <li data-bvseo="co">co_hasquestionsanswers, tq_14</li> <li data-bvseo="cf">loc_en_GB, sid_SB5400R_GreyReflectiveGeoPrint_FullLength, prod, sort_[SortEntry(order=NUM_ANSWERS, direction=DESCENDING)]</li> <li data-bvseo="diagnostics">clientName_sweatybetty</li> </ul> <!--end-bvseo-questions--> <ul id="BVSEOSDK_meta" style="display: none !important;"> <li data-bvseo="sdk">bvseo_sdk, dw_cartridge, 18.2.0, p_sdk_3.2.0</li> <li data-bvseo="sp_mt">CLOUD, getContent, 116ms</li> <li data-bvseo="ct_st">questions, product</li> </ul>