Power High-Waisted 7/8 Gym Leggings
Details
https://www.sweatybetty.com/shop/bottoms/leggings/power-high-waisted-7-8-gym-leggings-SB6438_BlueTextureTieDyePrint_78Length.html
Promotions
Highlights
Sweat-Wicking
Bum-Sculpting
80 to 90% Squat-Proof
Super High-Rise
Our new high-waisted Power Leggings designed for extra support and coverage. Stretchy fabric is sweat-wicking and quick-drying. Super high-waisted, bum-sculpting design with two side pockets. Bonded waistband for extra compression and flattering seamlines for a streamlined look. Perfect for gym workouts and studio classes. Inseam length: 23" / 58cm. Model wears size S and is 178cm/5'10" tall. Style Code: SB6438A 78Colour: Blue Texture Tie Dye Print
Our new high-waisted Power Leggings designed for extra support and coverage.
Stretchy fabric is sweat-wicking and quick-drying.
Super high-waisted, bum-sculpting design with two side pockets.
Bonded waistband for extra compression and flattering seamlines for a streamlined look.
Perfect for gym workouts and studio classes.
Inseam length: 23" / 58cm.
Model wears size S and is 178cm/5'10" tall.
Style Code: SB6438A 78
Colour: Blue Texture Tie Dye Print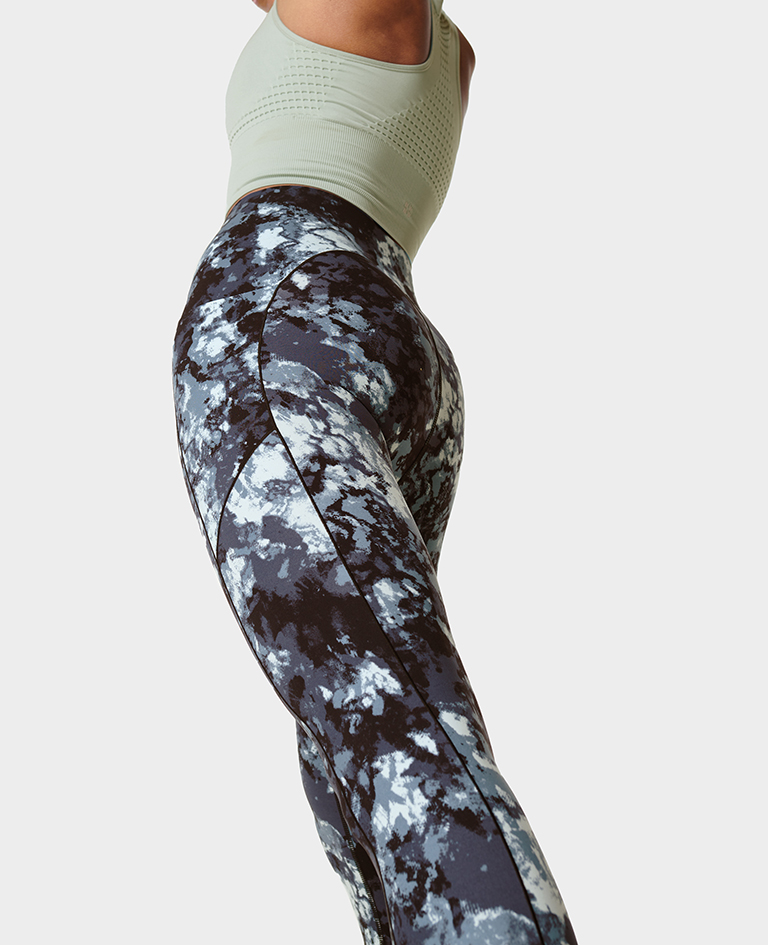 Sculpting and supportive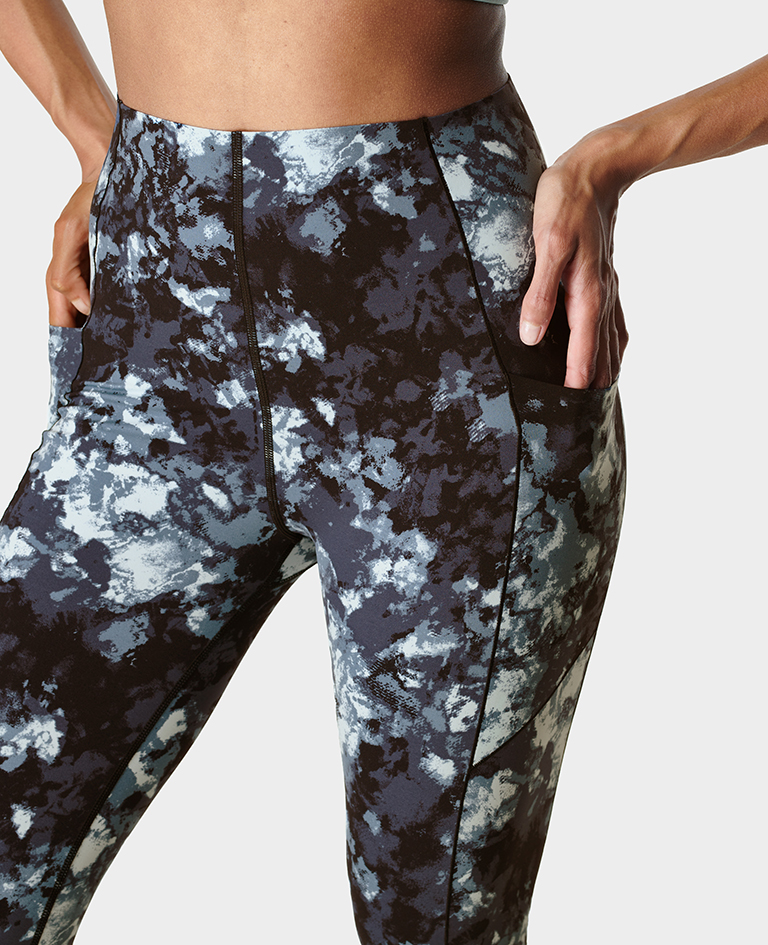 High-rise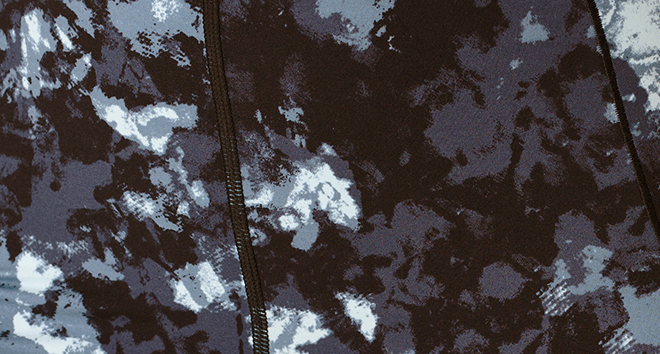 The Fabric
Composition: 62% Polyamide, 38% Elastane
Care
Wash at 40°C (104°F) on reduced spin. Do not bleach. Do not dry clean. See care label for additional information.
Rated

5

out of

5
by
Megp
from
GAME CHANGER!
These leggings are an absolute game changer! I have lots of different types of SB leggings and I love them all but these are not only super comfortable and stretchy and light weight yet supportive, they also make me feel SO much more confident and it's amazing!!! I never want to take them off! Lead to me having a really brilliant training session on their first wear - thank you team SB!! Sizing wise I go between an XS and a S and am an 8-10 normally, and XS and is perfect for me in these (they felt a bit tight at first but you settle into them!)
Date published: 2021-11-26
Rated

5

out of

5
by
M291
from
Best leggings I own and I own a lot!
Wear these for both running and the gym/HIIT workouts. They're amazing, don't move at all! Much prefer them to the normal power leggings as these are much higher up on the waist, so stay put, even with a big phone in the pocket. Bonus to have a pocket either side as well! I got size small and I'm a size 10-12 and they're perfect.
Date published: 2021-11-24
Rated

2

out of

5
by
BethTilly101
from
Super annoying
These leggings I find always fall down! They're meant to be high waisted but they just fall down below my bellow - SUPER ANNOYING! When they fall down also they're so low on my crotch area! It's almost like they're TOO compressive which is causing them to fall down? The material is much more thinner than my other powers - shows lumps especially on the back of my cellulite thighs! My other powers - which I think are the one compression level down are absolutely perfect. I'm so gutted these ones just don't compare!!!! My other ones were also more practical with a zip pocket at the back. They were also high waisted but sat perfect. The new ones I am reviewing are meant to be SUPER high waisted - but they just fall down as they're too compressive!!!! Overall super annoying. Super disappointed. I just want the same ones as my old ones next time!!!!
Date published: 2021-11-24
Rated

2

out of

5
by
Jo123123
from
See through and tighter fabric than other powers
I have 3 slightly older power leggings and absolutely love them and was really looking forward to getting a high rise pair. Unfortunately I don't like the fabric (much tighter) and when doing the mirror squat test the leggings failed... They are going back. Very sad about this as I really love the old power leggings. They are still great even after wearing them for a couple of years.
Date published: 2021-11-23
Rated

3

out of

5
by
Mc77
from
Not as good as original power
I have a few pairs of the original power leggings and love eveything about them so was looking forward to trying the high waist ones. I assumed wrongly that they would be the same leggings but with a higher waist. Not the case, the fabric feels different, harder to pull on. They don't stay up aswell either no string in the waistband. I have to keep pulling up from the top of the legs as you get that drag of the crotch after a few exercises. On the plus side they look great on, very smooth and sculpted just the performance is not there.
Date published: 2021-11-23
Rated

2

out of

5
by
Sarah_1409
from
Look great but fall down!
I've got a few pairs of the power leggings and the drawstring allows me to exercise in safety knowing they're not going to fall down! These however fall down as soon as I do any high energy exercise and there's no way to keep them up. Just a warm-up run sees me hoisting them up several times. I won't be buying them again but it's a shame as they look fab. Back to standard power leggings for me!
Date published: 2021-11-23
Rated

5

out of

5
by
Shermina
from
Flattering fit provided that you go one size down
Some products especially the big waisted is very flattering and slimming, very comfy for gym and wash very well. My experience shows that it's better to go one size down because it's more figure hugging. I bought large in the past, they do not sit on me as good as the medium.
Date published: 2021-11-23
Rated

2

out of

5
by
KBrowning
from
Lost shape after a few wears
Loved these leggings when I originally bought them but after a few washes and wears they've stretched so much they fall down and the seams have become all bally. really disappointed
Date published: 2021-11-22
Rated

3

out of

5
by
COFdublin
from
Love the print but not long enough for tall girls!
There are lots of things I like about SB leggings but I wish they were longer! Please introduce a choice of lengths! I bought the new high waisted power leggings, I love the blue/green print and the fit, but they seem even shorter than the old power style. I'm 5"10 and no way are 27" inch leggings full length on me!
Date published: 2021-11-22
Rated

3

out of

5
by
54babs
from
Strange finish to waist
I love sweaty betty because the items are such good quality and finished superbly but I wasn't sure thar these have been finished off. The waste band was strange. Possibly just me but found it very strange
Date published: 2021-11-21
Rated

5

out of

5
by
Debsta
from
Most comfortable leggings I own
High waist stops them rolling over and really soft. Really sculpts you in for a flattering look.
Date published: 2021-11-20
Rated

1

out of

5
by
Hols100
from
Disappointing
The leggings were super soft and looked lovely on, however as soon as I started moving the high waist flipped over on itself. This made them uncomfortable and completely impractical so sadly I had to send them back.
Date published: 2021-11-19
Rated

3

out of

5
by
cknowlson
from
Great leggings but don't last if you gym a lot
I am a PT and bought these for the gym - I workout 5./6 times a week and wash them probably once a week (I have more than one pair)! Had them for a bout 3 months and they are looking quite tired now and have gone a bit bobbly on the seams. Compared with my Lulu lemon leggings that have lasted three years - I don't think these will last much longer than 6 months. Fine - but not for the price. Fit is good and look great - just not as durable.
Date published: 2021-11-18
Rated

3

out of

5
by
Edelcg
from
Great sculpting. High waist rolls down.
This was my first time buying the high waist powers. I have a standard pair of 7/8 power leggings and wear them for classes all the time. I thought I would try the high waisted ones and although they give an amazing sculpted shape when on during a circuits class the high waist constantly rolled down. It was very annoying and I wish I had just bought the standard power leggings instead. I will continue to use these for walks and everyday wear but won't be wearing them to a class again.
Date published: 2021-11-18
Rated

1

out of

5
by
ss77
from
not suitable if you sweat
I bought these because I generally love the Power leggings - however this was my first pair of the extra high wasted ones. I bought the dark blue, and unfortunately the show sweat patches pretty clearly, especially in the crotch area. So if you sweat whilst you work I wouldn't recommend these. The fit is OK - they are very high compared to the power legging that has the zip at the back.
Date published: 2021-11-18
Rated

5

out of

5
by
Bloem
from
Perfect fit, love the high waist
I bought these for bootcamp and coretraining in the gym. They stay perfectly. Also love that my belly is still covered when mij top moves up eg while planking.
Date published: 2021-11-17
Rated

2

out of

5
by
Mchannell68
from
Leggings keep falling down!
Lovely quality leggings however they drive you mad as no drawstring these leggings constantly pulling them up! The same with two of my friends
Date published: 2021-11-14
Rated

5

out of

5
by
Anonymous
from
Awesome leggings - bring on the rainbow
Power leggings have been a firm favourite of mine but this is my first high waisted pair and they have not disappointed. They suck in my wobbly bits, stay up and don't roll at all. Only thing I would say is the rainbow pattern on the inside of the waistband is the best part - please could you make a pair of leggings in this pattern?!
Date published: 2021-11-10
Rated

3

out of

5
by
Fije7
from
Great look and feel, no good if you want to run
These leggings feel really good quality, the pattern is lovely and they are very comfortable too. Great design with the pockets that hold phone etc safely. However, I wish I had not bought them because if I even break into a jog they start falling down. I have other pairs of SB leggings that are fab and are same size, so that shouldn't be the issue. I am really disappointed and unless I am doing anything that doesn't require aerobic movement I'm pulling them up the whole time, which is frustrating and not a great look!
Date published: 2021-11-08
Rated

4

out of

5
by
pnki
from
Love the look but not the fit
Have 4 pairs of power leggings which I love and recently purchased the high waisted ones as I liked the design. They feel and look fabulous but have to constantly pull them up at the top of the legs as they seem to slide down…… never had that trouble with regular power.
Date published: 2021-11-06
Rated

4

out of

5
by
losing.with.lou
from
Super comfortable and supportive
I have no complaints over the quality and support of these leggings they are absolutely brilliant and fit like a glove. However, as a shorter women (5ft 5... just) the high waist was a little too high and the length of the leg a little too long. That said they will be perfect during the winter months when I need that extra length. If you are super short though go for the 7/8, standard waist which are great.
Date published: 2021-11-05
Rated

5

out of

5
by
emjsenior
from
Best Leggings EVER
Honestly - best leggings i've ever worn. I'm a sucker for a high waist to hold me in and make me feel AMAZING. So soft & comfortable!
Date published: 2021-11-05
Rated

5

out of

5
by
Arnella
from
Quality!!! Just quality
I bought these for my daughter for Christmas. Both of my daughters love sweaty Betty but can't afford them all the time so o treat them on birthdays and Christmas. Second to none in quality.
Date published: 2021-11-04
Rated

5

out of

5
by
JCD27
from
Believe the hype
My first purchase from Sweaty Betty. I had been admiring these leggings and considering my first purchase for aggeesss, trawling through reviews trying to work out if they would be as good as people say and worth the more considered price tag - all I can say is they absolutely are and I regret waiting so long! They are hands down the best leggings I've own and make me feel super comfortable at 10 months post partum.
Date published: 2021-11-04
Rated

5

out of

5
by
Juals
from
Great leggings
Great leggings. Very comfortable to wear and look great. High waist gives a smooth slim look.
Date published: 2021-11-04
Rated

5

out of

5
by
ioananed
from
The most flattering leggings
Extremely comfortable and they look great on! These are now my favourite leggings!
Date published: 2021-11-03
Rated

5

out of

5
by
Redsocks
from
Great bum sculpting leggings
They are a great fit. Good structure and support. The side pocket detail for my phone/music is a good size but holds my phone snugly. Perfect length for me, I'm 5'7. I feel
Date published: 2021-11-03
Rated

5

out of

5
by
Jo Harvey
from
AMAZING GYM GEAR
I love these Leggings, I lift weights and do circuit training and boxing and these leggings literally do not move, they feel great and are really supportive yet feel soft on the skin. would definately recommend, worth every penny.
Date published: 2021-11-03
Rated

2

out of

5
by
Fritske J
from
5 starts for the design but…
I find these leggings less supportive than my previous ones. In fact it fits more loose around tum and bum so when out on a run I need to pull the string quite tight to stop them slipping down. Never had this before with SBs. They are fine for yoga and I like the fabric so will keep them.
Date published: 2021-11-03
Rated

4

out of

5
by
Larsfenn
from
Great pattern
I have a few pairs of power 7/8 leggings and love them. This is my first pair of high waisted. These are definitely shorter on the leg then the normal powers. I measured them against the normal ones and they are the exact same length overall. Having a higher waist they should be longer overall which means they are missing length from the leg. They are lovely leggings all the same, really comfortable, and I love the tie dye pattern. Just wish they were slightly longer in the leg. If I was to buy another pair of high waisted, I'd go for the regular length, I'm only 5,3 (and a half)
Date published: 2021-11-02
bvseo_sdk, dw_cartridge, 18.2.0, p_sdk_3.2.0
CLOUD, getReviews, 8ms
reviews, product
<ul id="BVSEOSDK_meta" style="display: none !important;"> <li data-bvseo="sdk">bvseo_sdk, dw_cartridge, 18.2.0, p_sdk_3.2.0</li> <li data-bvseo="sp_mt">CLOUD, getContent, 12ms</li> <li data-bvseo="ct_st">questions, product</li> <li data-bvseo="ms">bvseo-msg: Unsuccessful GET. status = 'ERROR', msg = 'Not Found.';</li> </ul>