Thermodynamic Running Leggings
Details
https://www.sweatybetty.com/eu/shop/bottoms/leggings/thermodynamic-running-leggings-SB6229_Black_FullLength.html
Promotions
Highlights:

Thermal

100% Squat Proof

High-Waisted
Take it outdoors in these insulating thermal leggings. Made for outdoor training, the technical sweat-wicking fabric is fleece lined for extra warmth in the cold.
Stretchy and temperature-regulating thermal fabric
Brushed fleece lining to keep you extra warm
Back zip pocket for essentials
Model wears size S and is 178cm/5'10" tall
Style Code: SB6229
Colour: Black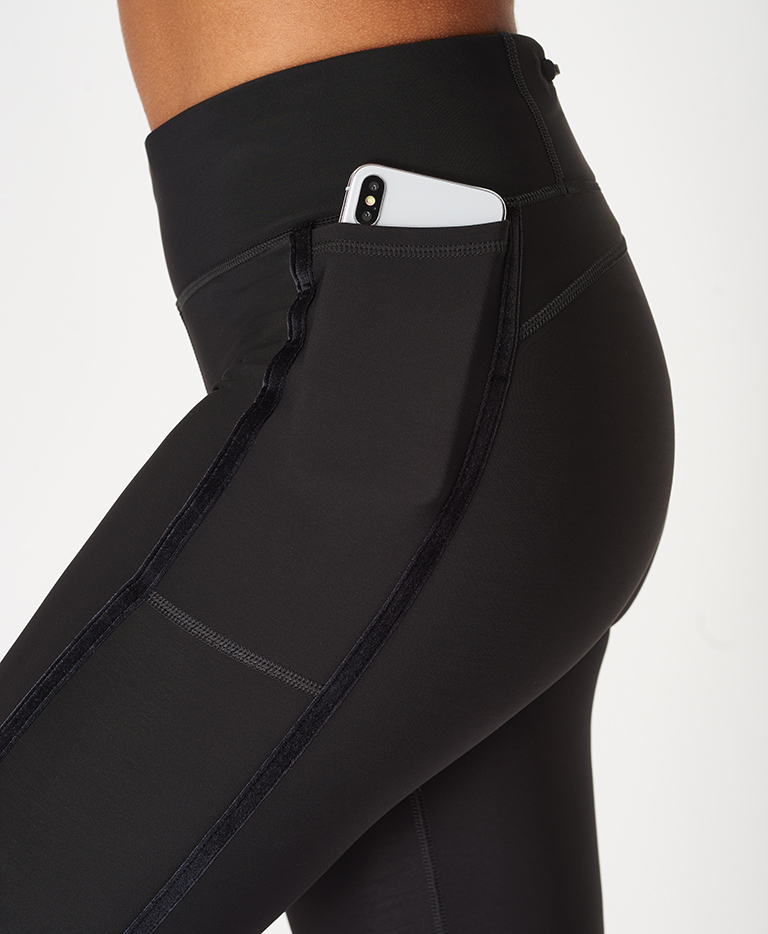 Fits up to an iPhone 11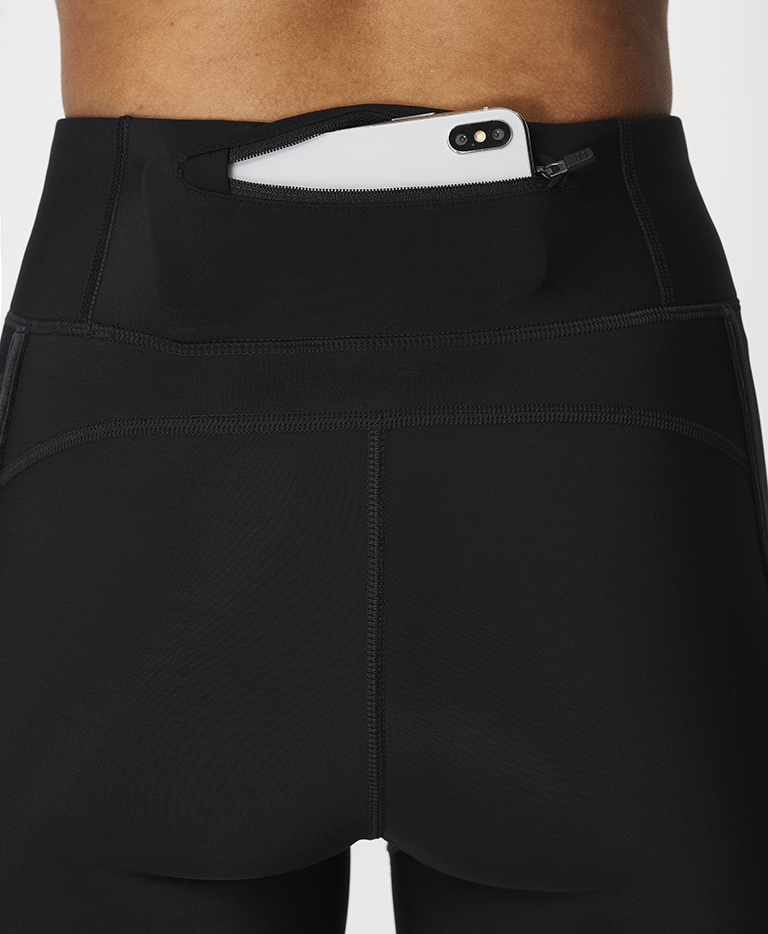 For all your essentials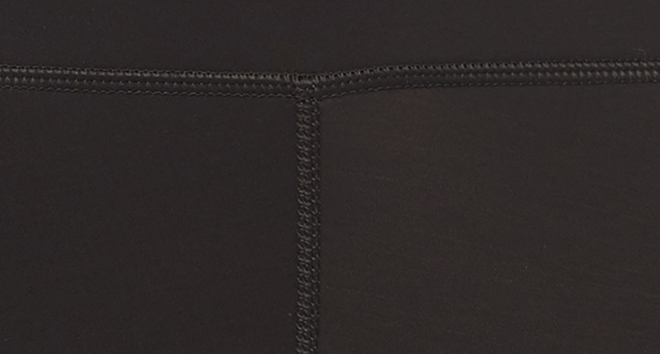 The Fabric
A thermal fabric of man-made fibres combining insulation with stretch, breathability and a sweat wicking finish, keeping you warm whilst perspiration free during hard core work out sessions.
Composition: 85% Polyamide, 15% Elastane
Care
Wash at 40°C (104°F) on reduced spin. Do not bleach. Do not dry clean. See care label for additional information.
Rated 5 out of 5
by
lcorner
from
Fantastic!
These leggings have been so good on cold days! It's always hard to keep your legs warm if you don't have a full length coat but with the thermodynamics it's not such an issue any more! I feel cosy and fabulous! Definitely recommend! #teamsb
Date published: 2021-01-03
Rated 2 out of 5
by
Lady Catherine
from
Love them! but the stitching...
I love these tights! They are so soft and comfortable and I didn't want to take them off. Then, after wearing them twice and washing them once (hung to dry), the seams started to come loose. Based on other reviews, it's probable only a matter of time before it turns into a hole. I'm so disappointed because I WAS going to buy another pair. Sadly, probably not going to order running tights from SB again.
Date published: 2020-12-28
Rated 5 out of 5
by
acccc
from
Gorgeous and super warm
These are fantastic leggings for winter, they have a fleecy lining so are really cosy. They give a pretty good shape too, probably not as flattering as zero gravity or power but they come close and are worth it for the warmth! I got the 7/8 length which feels slightly shorter than usual but they're fine. The XS is good for me and I'm a UK8-10.
Date published: 2020-12-26
Rated 5 out of 5
by
Sylwiasonia
from
Best for long run in below 0C.
I am preparing for ultra runs and needed something to keep me warm for longer when my body temperature goes down ( after 20km) and when is about 0 or below outside. They are great. My legs and bottoms are no longer red from freezing. I am usual size10/12 and I bought size M.
Date published: 2020-12-24
Rated 5 out of 5
by
Emma_B
from
Soft, Warm and PERFECT length for Shorties!!
I am 138 lbs and 5'1" and the size large fits perfect. I can also fit into a size medium, but the large is a little more comfy around the waist. I have to say, as a shorty, I am SO THANKFUL SB makes these in 7/8. For the first time I actually have a pair of leggings that aren't baggy at the ankle (and I have tiny ankles). They fit the way no other leggings have fit before. These leggings are warm, super soft, and great material. They are 100% opaque and compliment my figure! I can't recommend these leggings enough, they are fantastic! They will definitely be my go-to leggings all winter. Please keep making 7/8 for winter leggings SB! This is what sets you apart!
Date published: 2020-12-24
Rated 1 out of 5
by
Jacquie H
from
Not Thermodynamic for me
Unfortunately as nice as these are they don't do the job for me, My bottom was not thermodynamicly warmed up, legs were fine but bottom ended up freezing just as it does in normal leggings. I will be returning.
Date published: 2020-12-20
Rated 2 out of 5
by
Emily93
from
Poor quality
I love the look and fit of Sweaty Betty leggings and clothing in general but am increasingly finding that the quality is poor, especially given the price. The stitching started to come undone on these leggings in multiple places within the first month and then a hole developed within about 3 months. Disappointing as I have leggings by other brands e.g. Nike that I've had for years that have been much more durable as well as being half the price.
Date published: 2020-12-15
Rated 5 out of 5
by
LostGirlinLondon
from
Great for outdoor exercises
These are great for outdoor exercises. I have washed them a few times now and they still look brand new. I buy a pair every year! #TeamSB
Date published: 2020-12-15
Rated 1 out of 5
by
Bob29
from
Dissapointed
I am a true Corona runner and when the weather turned cold, I decided I deserved some nice cold weather leggings. I was so excited when I got them! Lovely material, nice fit, nice pockets, warm and cozy.. Everything the other reviewers mentioned. I did find the stitching to be a bit messy, but it was something I could live with. After a few runs though, the material started wearing out around the inner thigh. Long story short: I will need new leggings and I'm sad to say they won't be from Sweaty Betty.
Date published: 2020-12-13
Rated 5 out of 5
by
KirstyB73
from
Amazing running leggings in chilly conditions
Did my first run today in them and they were utterly amazing. Gorgeous material and super cosy!
Date published: 2020-12-11
Rated 5 out of 5
by
LiteraryAgent
from
Love these leggings!
I live in these leggings. They are perfect at regulating heat so that I'm comfortable indoors working and outside hiking. They look great (thank you for the bum sculpting!) and don't bag or sag. They don't attract pet fur, either, which is amazing because most of my leggings act like a fur magnet. I am ordering more pairs. They are the absolute best!
Date published: 2020-12-10
Rated 5 out of 5
by
Hwood96
from
Best Running Leggings
When the gyms closed again I needed some leggings for outside exericise. These are PERFECT. Kept my legs warm but without being too thick or uncomfortable. They've been a lifesaver for my outdoor workouts! #teamsweatybetty
Date published: 2020-12-10
Rated 5 out of 5
by
Ldn87
from
You won't regret it!
These leggings are by far my favourite SB leggings, this is just what I needed for this time of year, these warm leggings are ideal for running in the cold, not too heavy, not too light and I just love the soft fleece lining. I could wear them every day and thinking i might need a second pair soon.
Date published: 2020-12-10
Rated 5 out of 5
by
hp2064
from
I love these
I bought the burgundy kit. Love the softness and warmth. the pocket holds my phone and it stays in place. I got the XS and I am 5'-3" 120lbs. narrow hips
Date published: 2020-12-09
Rated 5 out of 5
by
deaksie
from
Excellent for a big bird just starting to run
Purchased the these leggings with the matching top, they arrived this morning as I was just about to go for my run so I put them on and the fit is fantastic. I love the quality, they look lovely, definitely improving my self image as I went out the door, were warm enough on 9th December when it was only 6C outside and the leggings didn't wriggle or move about at all. Extremely comfy. Love the side pocket for my phone. I'm so glad that SB have started doing bigger sizes, I'd tried Fabletics but didn't think they lived up to the hype, and I'd buy more from ACAI but they never have stock, so it looks like SB are stuck with me. I've immediately ordered a second set in a different colourway which is why I'm back on the site and that's prompted me to review. The matching top is nice too - that does ride up but I tucked it into the leggings and they kept it from misbehaving. The thumb loops look gimmicky but they stop your wrists getting cold. Sigh, no reason not to do more running now is there?
Date published: 2020-12-09
Rated 5 out of 5
by
Clover981
from
Warm, cosy and flattering
I love these leggings- they are great for colder weather. The velvet stripes are really flattering and stylish. Personally too warm for me to run in but lovely and warm and cosy for walking or to put on after a swim in this cold weather. Just wish they came in some different patterns as I want to wear them everyday! (I'm usually between a size s and xs depending on style, xs in these is just right for me)
Date published: 2020-12-01
Rated 4 out of 5
by
Marienametaken
from
Very flattering
I'm 5'9" and 125 lbs. the Xs fits pretty well. It slides down a little while I run but I wouldn't be able to size down. They're super flattering, the shine smooths everything out. My only gripe is. I wish they were a little warmer. I went for a run in 40 degrees F and while I was warming up with a walk my legs were very cold but once I started running they were fine.
Date published: 2020-11-27
Rated 1 out of 5
by
jamjam
from
Material is quick to catch
I have only just got them and put them to the test today for the first time since they arrived. I was very happy with the fit (true to size) and they kept me relatively warm on my way to the school run and subsequent fitness run this morning. However having got home, I noticed that a section of the fabric on the thigh has catches. I can't remember how this might have happened but in all my many walks and runs wearing regular SB leggings, they don't have a single catch despite years of use. These have had one morning's use and there is already evidence of wear which I feel might be down to poor quality choice in the fabric SB chose for these perhaps? Given that they are considerably more expensive than the all day, powers and super sculpts which I wear with no issues, I don't feel these are good value or carefully thought out in terms of fabric durability. I can't recommend, sorry.
Date published: 2020-11-24
Rated 5 out of 5
by
TriSar
from
Warm and cosy
I bought these as part of the leggings/top promo. I was unsure at first about the shiny nature of the fabric and that this would make them unflattering but I was wrong. They felt great as soon as I put them on, I especially like the velvet stripe down the side (although a reflective strip might have been a bit more useful..). They fit true to size, have a nice high waist and the inner drawcord makes them adjustable. They are warm and cosy to run in, and don't fall down. The rear zip pocket allowed me to put my iPhone SE in with no problems. It was 5 degrees out for my mid-morning run today and if anything they were too warm (although I did wear them with the thermodynamic run top) but I'd much rather be a bit too toasty given that winter hasn't really kicked in. Recommend-great in terms of looks, style and functionality!
Date published: 2020-11-20
Rated 5 out of 5
by
morganaa
from
Necessity for winter & STYLISH
I love SB's thermal leggings for skiing and have several pairs of the colored/printed tights. I was so excited to try these out & love how elevated they look due to the velvet piping. Size S fits great and I'm 5'6" 130 lbs. Highly recommend!!! Also got the matching top as part of their thermal kit deal.
Date published: 2020-11-19
Rated 4 out of 5
by
hp2064
from
very warm and comfortable
These leggings are soft and warm. I love the burgundy color for the winter blahs. I use these for hiking, running, and walking on the beach during the winter and spring. I am 5'-3" 121lbs narrow hips and I got the XS. I own several of these. I got the whole kit.
Date published: 2020-11-19
Rated 4 out of 5
by
DorsetCream
from
Warm but slightly weird
I really wanted some warm leggings for winter running. These felt warm and cosy but the thicker fabric emphasised the fact that they were wrinkly on my thighs (as SB leggings often are). Also seemed odd to have a velvet trim on running leggings - made me wonder if these are just a fashion item.
Date published: 2020-11-16
Rated 5 out of 5
by
BHazel
from
Fabulous Leggings
These leggings are soooo comfortable, warm but not too warm and flattering. Will be great for dog walking as well as running. Love them.
Date published: 2020-11-14
Rated 3 out of 5
by
GinaPelleena
from
Shiny fabric
These leggings are super comfy and warm...but they're quite shiny, which I don't like. It's good they have the velvet detail otherwise they'd have to go back.
Date published: 2020-11-13
Rated 5 out of 5
by
Llamalover
from
I LOVE these leggings ❤️
I bought these as I have almost completely given up on Lululemon. These thermal leggings fit great. I'm 5'4 and 120lbs and the full length was perfect. These are warm and comfortable. They stay up and feel great. The pockets are divine and so useful. The only thing I'm not sure I love is the velvet piping up the side. Worth the money!!!
Date published: 2020-11-12
Rated 5 out of 5
by
Sangu44
from
Always perfect for autumn
I buy these every year and wear them constantly from autumn through to early spring. The fabric is supportive and incredibly warm, the velvet stripes down the legs give a luxe look to these fabulous outdoor leggings. Highly recommended #teamsweatybetty
Date published: 2020-11-12
Rated 5 out of 5
by
S Kaur
from
Best thermal leggings for cold weather
I brought these leggings for my commutes and winter walks / outings. They are fleece lined inside and keep you super warm. Couldn't recommend them enough. Amazing material & quality!
Date published: 2020-11-11
Rated 5 out of 5
by
Ness H
from
Insulating leggings that also look fantastic!
Omg, these are amazing leggings. Thermal warm, all cozy and soft and they look awesome on. SB you have done it again! Literally rocking these on dog walks, school runs and working from home in Lockdown. Super comfy, glam and warm. A total winner:)
Date published: 2020-11-09
Rated 5 out of 5
by
GS.GS
from
Super snug!
Bought these now the weather has turned. Still flattering but with a great thermal lining. Nice velvet detail, phone pocket is super handy and the material isn't as shiny as previous versions #teamsweatybetty
Date published: 2020-11-05
Rated 5 out of 5
by
Lindz18
from
Even better than Last years
I bought these for running outdoors in the winter, it has been nippy enough to wear them in the mornings and I definitely notice the additional warmth. They feel stretchier than last years and just smoother, I don't know whether it is because the seams have moved (we gained a side pocket! woo woo!) but I love them even more than last years! #teamsweatybetty
Date published: 2020-11-05
bvseo_sdk, dw_cartridge, 18.2.0, p_sdk_3.2.0
CLOUD, getReviews, 7ms
reviews, product
<ul id="BVSEOSDK_meta" style="display: none !important;"> <li data-bvseo="sdk">bvseo_sdk, dw_cartridge, 18.2.0, p_sdk_3.2.0</li> <li data-bvseo="sp_mt">CLOUD, getContent, 181ms</li> <li data-bvseo="ct_st">questions, product</li> <li data-bvseo="ms">bvseo-msg: Unsuccessful GET. status = 'ERROR', msg = 'Not Found.';</li> </ul>