Power Mission High-Waisted 7/8 Workout Leggings
Details
https://www.sweatybetty.com/au/shop/bottoms/leggings/power-mission-high-waisted-7-8-workout-leggings-SB5891_Black_78Length.html
Highlights
Sweat-Wicking
Bum-Sculpting
90% Squat-Proof
Pockets
All new performance gym leggings designed for every workout. Super stretchy fabric with sculpting seams to sculpt the bum. Sweat-wicking and quick-drying for all sports. High-waisted with external drawcord. 2 side pockets, reflective details on calf and bonded edges for comfort. Inseam Length: 60 / 24". Model wears size S and is 178cm/5'10" tall. Style Code: SB5891 78Colour: Black
All new performance gym leggings designed for every workout.
Super stretchy fabric with sculpting seams to sculpt the bum.
Sweat-wicking and quick-drying for all sports.
High-waisted with external drawcord.
2 side pockets, reflective details on calf and bonded edges for comfort.
Inseam Length: 60 / 24".
Model wears size S and is 178cm/5'10" tall.
Style Code: SB5891 78
Colour: Black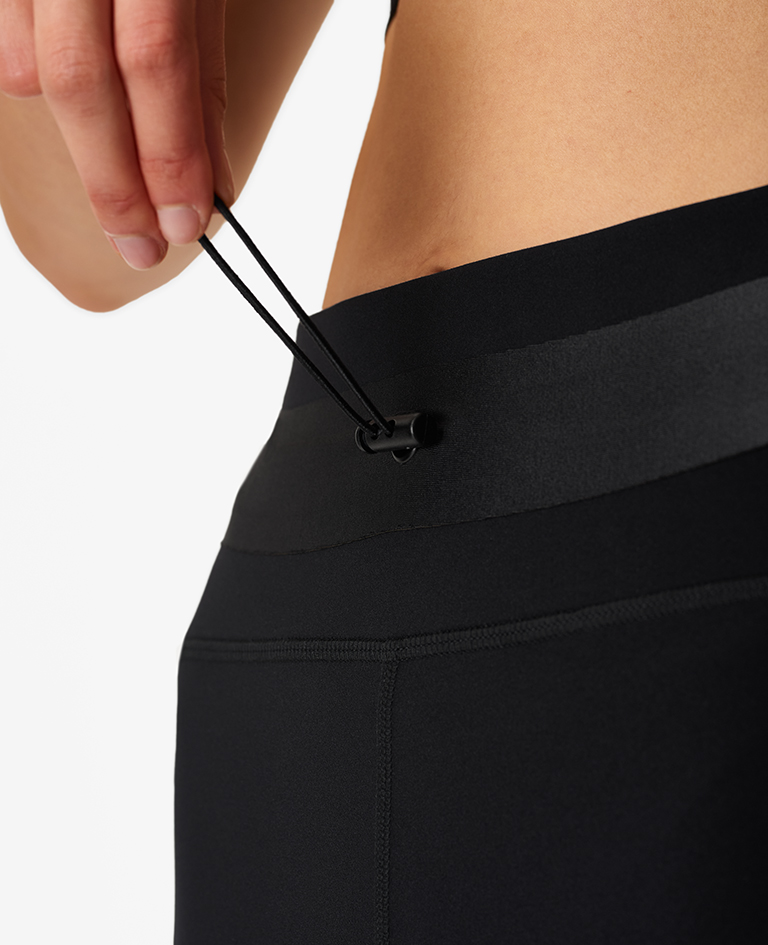 Ensures the perfect fit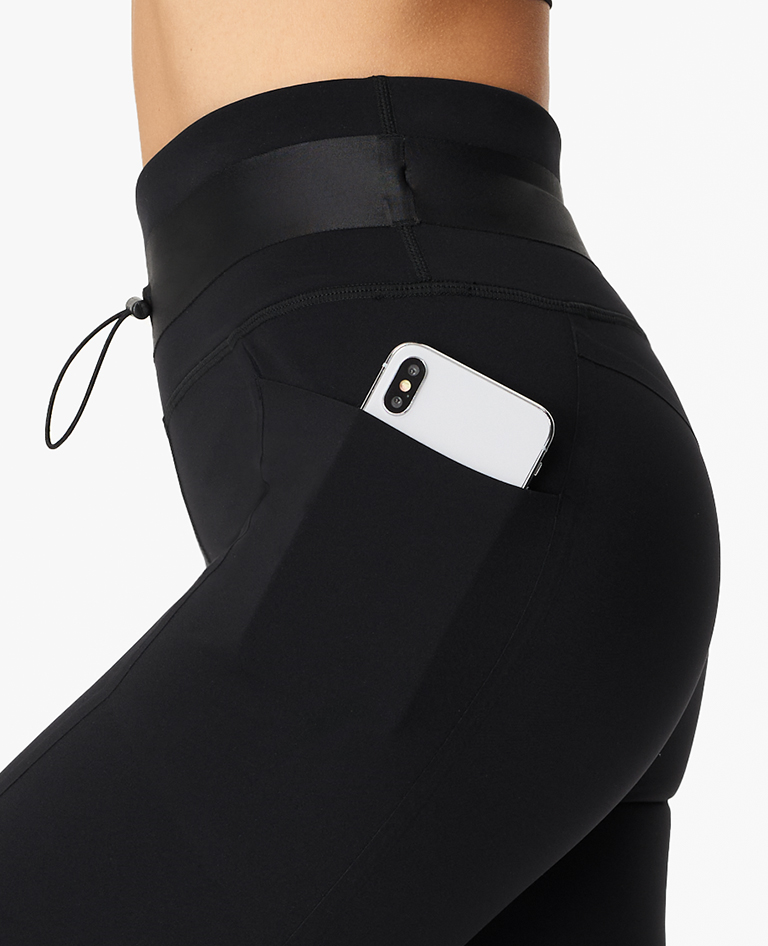 Fit up to an iPhone 11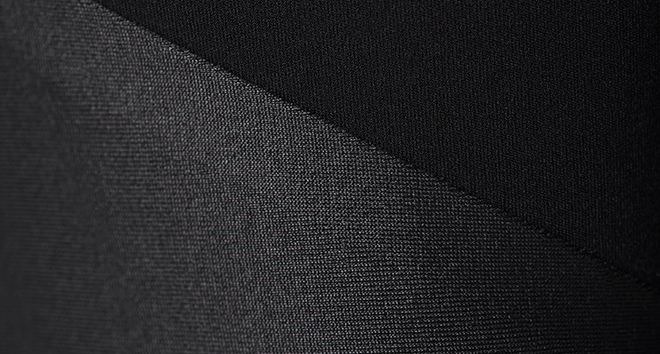 The Fabric
Composition: Main: 62% Polyamide 38% Elastane. Contrast: 80% Polyamide 20% Elastane
Care
Wash at 40°C (104°F) on reduced spin. Do not bleach. Do not dry clean. See care label for additional information.
Rated 5 out of 5
by
Shall
from
Best activewear, trendy and classy
One of the best activewear, quality is top notch and looks so classy and so comfortable. One of most staple piece.
Date published: 2021-03-25
Rated 2 out of 5
by
Niccccc
from
Love the look but seams came apart!
Such a shame as they are beautiful. They are the first pair I had with glued seams and unfortunately after three wears the seams came apart on the top of thigh. Never had this problem before with Sweaty Betty.
Date published: 2021-03-24
Rated 1 out of 5
by
Court193
from
Glue coming apart!
I wanted to love these, and the fabric is brill but after two wears they started coming apart during a run. By the end of the run you could see my pants! The glue just is not ideal and I wouldn't trust them to last as long as the original powers, even if they lasted longer than a couple wears.
Date published: 2021-03-22
Rated 5 out of 5
by
JoMonte
from
Best leggings I've ever worn
I love these leggings! I bought them in the camo print and think they are really flattering for my thicker legs. I really liked the high waist - they don't slip at all, even when I have my brick of a Samsung Note in one of the pockets. Love having pockets both sides - why isn't this the case with all styles? I really wish SB would make these specific leggings in plain black rather than the mixed finish they currently have - hopefully this along with more colours/patterns will be added soon!
Date published: 2021-03-21
Rated 5 out of 5
by
Shookies
from
Best leggings I've owned
I bought these for general everyday wear, walking and at home workouts. I was worried incase they'd be like all other workout leggings and that they wouldn't stay up but these are amazing. They do stay up, they are incredibly comfortable and the material is so lovely. I am 5"1 so bought the 7/8 and they are perfect. I'm also a size 14 and I ordered a Large, going by the size guide however I found they weren't quite tight enough so I sent back and ordered a medium and they are perfect and hold in all my wobbly bits! Usually I'm a bit self conscious and always like a longer top or coat to cover my bum if I wear leggings but I don't need to with these, they're super sculpting. The only downside I'd say is that they're expensive, but they are pretty amazing leggings and I won't buy anything else now.
Date published: 2021-03-21
Rated 1 out of 5
by
Ashenkas
from
Looks great, came apart after one use
They look great, they feel great, they came apart at the seam after just one use and wash. The seam looks to be only glued, for high performance product that doesn't seem enough.
Date published: 2021-03-21
Rated 3 out of 5
by
Nynaeve1
from
Great fabric
I loved the colour and fabric of these - feels sleek and technical. Wasn't a huge fan of the drawstring as it's not a feature I use a lot and can look a bit messy when layering a shirt overtop. The bottom panels were not very flattering for my individual leg shape as they accentuated my already thick calves. But these could look great on others and worth a try on. #teamsweatybetty
Date published: 2021-03-18
Rated 5 out of 5
by
Michelle H
from
The most amazing leggings
By far the nicest and most comfortable leggings, very flattering too! I bought these specifically for running and they are great. I love them. #teamsweatybetty
Date published: 2021-03-15
Rated 5 out of 5
by
Abs23
from
Great Running Leggings!
My new favourite running leggings! Absolutely love these new Power Mission's! I find the high waist gives a super flattering look and the drawstring cord is a great feature to be able to quickly adjust depending on activity. Totally obsessed with the two side pockets on this style and love the pretty camo print half leg design with the matching waistband....really unique! Love wearing day to day for walks or lounging but my best performing running leggings so far! (more prints please!). #teamsweatybetty
Date published: 2021-03-13
Rated 5 out of 5
by
sammyfleur
from
flattering high-waist
First time I bought a pair of high-waisted leggings that are super flattering, super cool looking with the high shine and matte look. The drawcord at the waist adds another lovely feature to these leggings.
Date published: 2021-03-09
Rated 1 out of 5
by
Jozza
from
A hole in the seam
I've worn these leggings 4 times and a hole has appeared at the seam, also elastic like bobbles have appeared on the material. Really disappointed with the quality.
Date published: 2021-03-01
Rated 1 out of 5
by
LillyG
from
Coming apart at the seams
These leggings would be great - I've washed them about five times and the seams have come away where they are glued together.
Date published: 2021-02-28
Rated 5 out of 5
by
Mo Jo
from
A Great Buy
Hi, I love my new leggings with a higher waist and side pockets, Fabric gives support and stretches. I have over 7 pairs of the original powers and really like these ones. Would definitely recommend and have taken my normal size small. I am a uk size 12. The 7/8th length is my normal purchase, they seem a little shorter which I like.. Thank you Sweaty for being passionate about producing Quality sports wear , these will not disappoint.
Date published: 2021-02-24
Rated 4 out of 5
by
Am135
from
Nice leggings
I bought these for running, the feel lovely and I like the design but they're baggy around my ankle, knees and crotch area. I feel if I got an xxs the waist would be too tight and dig in. A wierd fit but they are nice and stay put when running, never have to pull them up! I am 5'5 and a size 6, I ordered xs for size references.
Date published: 2021-02-24
Rated 1 out of 5
by
Renata 2016
from
Poor quality
I have wore my leggings one day and the seen which was like glued together has come apart on my bottom. I think for the 95 pound I would expect more quality, also I didn't even use them whilst exercise. Can't find the photo on my camera I think I must of deleted ! 2 weeks on send the item back haven't heard from anybody?
Date published: 2021-02-24
Rated 5 out of 5
by
xGulia
from
Superb leggings
These leggings are gorgeous, look chic and of a incredible quality. I usually struggle finding comfortable leggings which don't irritate skin with rough stitches in the seams, but these are absolutely comfortable, I forget that I got them on, it feels like they have no seams altogether! Worth every penny
Date published: 2021-02-20
Rated 4 out of 5
by
zumbamel5
from
mixed opinion
I wear only Sweaty Betty leggings and as a fitness instructor I live in them. I am 6 ft tall and a size 10 and usually get a small in leggings although sometimes xs are a better fit on the waist. I wanted to love these but the front crotch was a little baggy and they road up my legs and ended up been 7/8 and revealing too much ankle for this time of year. I chose a Small but xs would have been way too short. I would prefer a longer length in all your leggings the toggle was a good idea but I found it got in the way of lying floor work in pilates and yoga. I would prefer the inside pull in option
Date published: 2021-02-19
Rated 5 out of 5
by
Lucy JB
from
CHANGED MY LIFE ... well at least my runs
This is the first SB product I've ever purchased and WOW I am shook at how much I've been missing out on. Firstly, yes, they are expensive but the price reflects the product. High price = high quality and in my opinion a smart investment, I feel like these will last me a long time. After reading the reviews I went for a S (I'm 5"10, 10/12) and I'm so glad I did. Needed a slight wiggle to get them on but when they're up they fit like a glove. Not too-tight at all. The material is gorgeous. It's shiny and smooth so when you run theres no friction between the thighs and ensures a comfy run. The seams are unlike anything I've seen before on leggings, they are so robust and secure, also quite different as well. The first run I did was a 10 miler to really test them and they sailed through the challenge, didn't come down at all and nor needed adjusting. I didn't use the phone pocket so can't comment on if that impacted them staying up or not. But all in all, absolutely hit the spot with these !!!!
Date published: 2021-02-19
Rated 5 out of 5
by
Kricho
from
Don't fall down!
Love these leggings. First pair I've bought in years after having a bad experience with another brand (falling down) and I've not been disappointed. I can run, jump and squat - these are going no where. Love the pattern - just enough for me. I've gone from "how much for a pair of leggings?" to "when are you bringing out more colours?" Love them
Date published: 2021-02-19
Rated 5 out of 5
by
Grey cat
from
Powers but better!!
I have many pairs of Power leggings as they fit so well, so I was interested to try these ones. I didn't think the originals could be bettered, but these are awesome. Fit really well, I love the drawstring and they work as well for Bootcamp works outs as they do for running. Please make more colours!!!
Date published: 2021-02-15
Rated 5 out of 5
by
Runner7736
from
Brilliant running legging
I always run in the zero but I think I'm converted to the power mission for colder weather! The waistband is so comfortable and the power fabric is warmer than the zero. Can't wait to see them in more colors! #teamsweatybetty
Date published: 2021-02-13
Rated 5 out of 5
by
Solarwolf
from
Excellent!
The leggings were my first SB purchase and I am hooked! I wear size 14-16 so I opted for XL and they fit perfectly. What I love about them is that they don't slip from your hips when you run or do continuous squats. I recently ordered another pair in a different colour.
Date published: 2021-02-13
Rated 4 out of 5
by
Sandy Tam
from
Great leggings love love but....
I bought the mission leggings last week and I'm usually a power leggings girl. Loved them, the style, fitting but the right pocket is not a pocket on mine. Put my phone in and within seconds was down by my ankle. So a bit disappointed, I'm sure I got a faulty pair. It's overall 5stars but for the pocket situation had to give 4, such a shame as they are absolutely lovely leggings. Not sure I can return as I've already worn them once?
Date published: 2021-02-13
Rated 5 out of 5
by
Becks89
from
Who knew the Powers could get better?!
As a hardcore fan of the original Powers, I knew the Mission would be great but I can't believe how much I love these leggings! I have a very long torso and these sit much higher on the waist than the originals, are still incredibly well fitted, soft, sweat wicking etc. (all the good stuff we know already about the Powers) but look amazing with the placement print. They also have bonded seams so are less likely to get caught on anything or fray and they have a nice reflective detail on the leg and an extra pocket! The waist toggle is a nice bonus for when you want to 'cinch' in a bit more too. The higher waist is definitely a winner for me though! Can't wait for more colours and prints... #teamsweatybetty
Date published: 2021-02-11
Rated 5 out of 5
by
LadyR
from
Such an improvement!
Now washed a few times and all is well, stays put, love the double pockets as I have limited movement in my left hand and no zips at the back is better for floor work. I find them warmer than the power leggings. The bonded seams feel like they sculpt nicely.
Date published: 2021-02-11
Rated 4 out of 5
by
Emily129
from
Great pair of leggings
I bought these for running. I love how they look and feel on and like the reflective strips on the bottom. Had some lovely compliments about them too. Really comfortable for walking and yoga. When I first put them on I was really happy with the fit. I am a UK size 12 (also tall with 34inch inside leg) and bought a Medium as recommended by the size guide, I figured as it has a drawstring this should be fine if they are a little big. However, I do find they come down a bit when running despite the drawstring which is a little disappointing. Think next time I would get a Small.
Date published: 2021-02-07
Rated 5 out of 5
by
Marta76
from
Absolutely awesome
I love this leggings...pockets on both sides, sitting perfectly on your body and the the waist is the best part of it. I Love all power leggings from SweatyBetty but this new ones improved so much. Yes...£95 is a LOT but it worth it!
Date published: 2021-02-05
Rated 5 out of 5
by
maymay95
from
IN LOVE
They're super comfortable and hugs me in all the right places, probably my favourite pair of leggings yet! #teamsweatybetty
Date published: 2021-02-04
Rated 5 out of 5
by
Tilz
from
Great power update
These are a great update to the power and I cannot wait for it to be brought out in more colourways. I love the look of these and they fit great. #teamsweatybetty
Date published: 2021-02-04
Rated 5 out of 5
by
camilla126
from
Like the Power but better!
These leggings have had a great update with the wet look on the lower leg and the drawstring at the waist. The fabric is lightweight but still so supportive. I love how technical these look without looking too sporty. #teamsweatybetty
Date published: 2021-02-04
bvseo_sdk, dw_cartridge, 18.2.0, p_sdk_3.2.0
CLOUD, getReviews, 87ms
reviews, product
<ul id="BVSEOSDK_meta" style="display: none !important;"> <li data-bvseo="sdk">bvseo_sdk, dw_cartridge, 18.2.0, p_sdk_3.2.0</li> <li data-bvseo="sp_mt">CLOUD, getContent, 13ms</li> <li data-bvseo="ct_st">questions, product</li> <li data-bvseo="ms">bvseo-msg: Unsuccessful GET. status = 'ERROR', msg = 'Not Found.';</li> </ul>